Obit: Richard H. Wibe, 75, of West Bend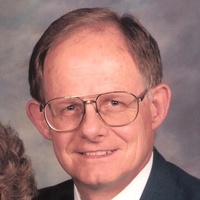 Oct. 11, 2017 – West Bend, WI – Richard H. Wibe, 75, of West Bend died peacefully Oct. 7, 2017 after a short but difficult battle with pancreatic cancer. He was born March 10, 1942 in Sioux City, IA to Ralph and Susan (nee Osweiler) Wibe and married Louise Steinbach on April 16, 1966 in Chariton, IA.
He worked in the automotive industry as a finance and leasing officer for many years, most recently for Ernie Von Schledorn. Following his retirement in 2009 he continued in the car business as a driver for Boucher.
Richard was an avid sports fan, especially for his beloved Iowa Hawkeyes and the Green Bay Packers and was a member of St. Frances Cabrini Catholic Church where he sang in the choir and also the West Bend Early Riser Kiwanis Club.
Richard is survived by his wife of 51 years, Louise, 2 daughters: Katherine Wooderick of Madison and Beth (Andy) Dingman of Marysville, WA, 5 grandchildren: Ray, Justice, Sara, Jullian and Phoenix and his mother-in-law Esther Belle Steinbach of Cedar Rapids, IA. He is further survived by his 4 brothers: John (Rosemary) of Marcus, IA, Thomas (Joyce) of Cedar Rapids, Gerald (Deb) of Madrid, IA and Chuck (Rhonda) of Colorado, brothers-in-law and sisters-in-law: Jeanne (Steve) Brown of Auburn Hills, MI, Ruthann (Ricky) Heidgerken of St. Mary's, GA, Kathy Shelton of Cedar Rapids, IA and Al (Deb) Steinbach of Schenectady, NY and nieces, nephews and other relatives and friends.
He is preceded in death by his parents, Ralph and Susan Wibe, a sister in infancy, 3 children in infancy, Anthony, Aaron and Rebecca, his father-in-law Lawrence Steinbach and a nephew in infancy Benjamin Steinbach.
A memorial service will be held Tuesday, October 17, 2017 at 7:00 p.m. at the Schmidt Funeral Home in West Bend with Rev. Justin Lopina officiating. The family will greet visitors on Tuesday from 5 p.m. until 6:45 p.m. In lieu of flowers memorials to the West Bend Early Riser Kiwanis Club or the charity of your choice are appreciated.
A memorial Mass of Christian Burial will be held Saturday, Oct. 21 at 10:30 a.m. at St. Ludmila Catholic Church in Cedar Rapids, Iowa with burial in Calvary Cemetery in Chariton, Iowa.
We would like to extend a special Thank You to Dr. Mooney and the staff at the Kramer Cancer Center, the nurses and staff at Heritage Nursing and Rehabilitation in Port Washington and Horizon Hospice for the compassionate care given to Richard.
The Schmidt Funeral Home in West Bend is serving his family.