Obit: Robert P. Wagner, 81, of West Bend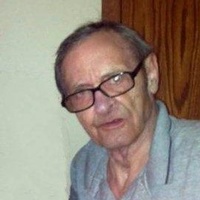 May 31, 2018 – West Bend, WI – Robert P. Wagner of West Bend died on Wednesday, May 30, 2018 at his home at the age of 81 years.  He was born on September 28, 1936 in Barton to the late Nick and Helen (nee Kugler) Wagner.
On October 5, 1957, he was united in marriage to Virginia A. Nickel in West Bend. Virginia passed away June 28, 2016.
For many years, he worked at the former White House Milk Company.  After their closing, he worked at the Gehl Company and later Kenro, Inc. in Fredonia.
He enjoyed playing sheepshead and house painting.  One of his projects was painting the peaks at the Old Washington County Courthouse.  Above all else, he cherished the time he spent with his family.
He was proud to have been born and raised in Barton, and was a life-long resident of the area.
Survivors include 4 children: Brenda (Dennis) Heinecke of Sheboygan, Mark (Karen) of West Bend, Lori (Randy) Boudry of West Bend, and David (Diane) of Sheboygan; 12 grandchildren: Jamie Chesak, Joel (Marie) Heinecke, Eric Wagner, Keith (Sam) Wagner, Keri (Matt) Lehn, Jacob Turner, Ashley (Michael) McManus, Amanda (Angie) Erickson, Nicole (Dan) Robinson, Tyler Boudry, Angie (Tony) Wilson, and Tracy (Greg) Hansen; 16 great-grandchildren: Brendan, Collin, Callie, Mason, Kaiden, Aubrie, Chase, Liam, Mekenzie, Kennedy, Riley, Lyvia, Owen, Harper, Holden, and Bailey; 4 sisters-in-law Sue Wagner of West Bend, Kathy Westphal of Beaver Dam, Laurie Tadych of Beaver Dam, and Fran Mack of Montello; 2 brothers-in-law Tom (Kathy) Nickel of Madison, and Dave Nickel of Florida; nieces, nephews, other relatives and friends.
In addition to his wife and parents, he was preceded in death by one grandson Michael Wagner and brothers and sisters Patsy (Bill) Kirchner, Lucille (Michael) Strupp, Ron Wagner, and Jerry Wagner, one sister-in-law Audrey Basske, and one brother-in-law Jim Mack.
Funeral services will be held on Monday, June 4, at 1:30 p.m. at the Schmidt Funeral Home in West Bend with Deacon Mark Jansen officiating.  Burial will follow in Washington County Memorial Park.  The family will greet relatives and friends during a period of visitation at the funeral home on Monday from 11:30 a.m. until 1:15 p.m.
The family has requested memorials to Meals on Wheels of Washington County.
Bob's family would like to extend a sincere thank you to the members of the West Bend Fire Department and West Bend Police Department for their services.