Obit: Ron Krauss, 76, of West Bend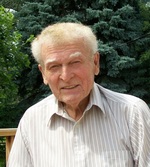 June 20, 2017 – West Bend, WI – Ronald "Ron" Krauss died peacefully at the Samaritan Health Center in West Bend, WI on June 16, 2017. He was 76. Ron was born on March 5, 1941 in Milwaukee, WI to his parents, Anton and Gertrude Krauss.
He graduated from Marquette University High School 1959. He married Donna Stofflet in 1963. The Krauss' moved to Germantown where Ron worked in and later owned the family grocery business, Krauss Food Ranch.
He retired in 2011. Ron was civic minded and very involved in local government and various civic groups. He was a life long Brewers fan and history buff.
Ron is survived by his wife, Donna, son Kevin (Melissa), grandchildren, Keely, Kierstyn and Kevin Earl, and his sister Margaret Pelkhofer. He was preceded in death by his sister, Arlene, brother Harold, and granddaughter, Alyse. Also survived by other relatives and friends.
Ron with have a visitation on Wednesday, June 21st from 4-7 p.m. at the Schramka Funeral Home, W164 N9034 Water St., Menomonee Falls, WI, followed by a Funeral Service at 7 p.m.
There will be a graveside service on Thursday, June 22 at 11 a.m. at Holy Cross Cemetery, 7301 W. Nash St. in Milwaukee (Please meet inside Cemetery gate at 10:45 a.m.).
All are welcome to attend and celebrate Ron's life. In lieu of flowers, memorials to The Alyse Krauss Foundation would be appreciated.