Obit: Walter J. Adams, 81, Campbellsport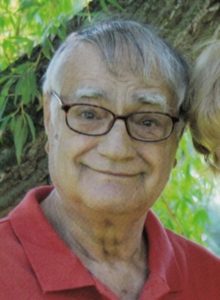 Walter J. Adams, 81, of Campbellsport, passed away Thursday, June 30, 2016, at the Hospice Home of Hope, Fond du Lac. Walter was born in West De Pere on August 6, 1934, the son of John and Mary (Jones) Adams.  He attended schools in East De Pere, graduating from East De Pere High School in June, 1953.
In 1954, Walter enlisted in the U.S. Navy during the Korean Conflict. After basic training at Great Lakes, IL and airman school in Norman, OK, he was assigned to VF-124 Fighter Squadron at Miramar Naval Air Station, San Diego, CA.  He completed a Far Eastern tour on the aircraft carrier the USS Hancock with a stopover at Atsugi Naval Airstation, Japan.  Following his discharge in 1956, he attended the University of Wisconsin, Oshkosh and in 1958 he enrolled as a forestry student at Michigan State University.  Walter received a B.S. degree in Forestry in 1961 and M.S. degree in Park and Recreation Resources in 1969.
In 1959 he married Lyn Shimek who passed away in June of 1968 . Walter married Dolores "Lori" Hohenstein on June 15, 1970.
Walter began his employment with the Department of Natural Resources in 1962 as a forester at Griffith State Nursery. Following several assignments with the DNR, he was appointed Superintendent of the Kettle Moraine State Forest – Northern Unit in 1971 and served in that position until his retirement in 1995.
Walter enjoyed cooking, reading, and nature, especially the scenery in Kettle Moraine. He was a member of St. Matthew Catholic Church, Campbellsport and Friends of the Kettle Moraine.  He enjoyed travelling to visit the parks in Michigan, Kentucky but especially enjoyed visiting his granddaughters in California.
Survivors include his wife Dolores "Lori", daughters Susan (Matt) Bett of Santa Clarita, CA and Kristi Adams of Toluca Lake, CA, his granddaughters, Jasmine, Ashlyn, Isabelle & Sophia Bett, brothers and sisters, Bette Anderson of Green Bay, WI, Janette Platt, CA, Ruth (Patrick) Kernan, IL, nieces, nephews, co-workers and other relatives and friends.
Walter was preceded in death by his parents John and Mary Adams, his first wife Lyn, infant daughter Karen Michelle and his siblings, Peter Adams, Tom Adams, LuAnn Phillips, Robert Kendall and John Adams.
A private family Mass of Christian Burial will be held Thursday, July 7th at 1:00 PM at Holy Trinity Church, 510 Church Ave., Casco, WI, with family visitation an hour prior.  Rev. Milton Suess will officiate with burial at Holy Trinity Cemetery.
Family and friends are invited to attend a Celebration of Walter's life on Saturday, July 9, 2016, at the Kettle Moraine Zillmer Shelter, W833 County Rd SS Campbellsport from 1-3 PM.  In lieu of flowers, memorials will go toward enhancements at the Kettle Moraine Forest.
The family appreciates and thanks the many doctors and nurses who attended to Walter during these past 3 months and especially those who cared for him during the past 6 weeks of his life.