Richfield, Wi – Alice M. Schulteis (nee Kohl), formerly of Richfield, was called home to be with the lord on December 26, 2022, at Serenity Villa in Slinger at the age of 94. Alice was a faith filled woman and a spiritual inspiration to all who loved her.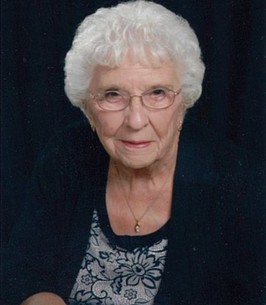 Alice was born on November 30, 1928 to Joseph and Anna (nee Schmitt) Kohl. Alice attended St. Boniface grade school and graduated from Menomonee Falls High School. She was united in marriage to Albert T. Schulteis on October 22, 1947 at St. Boniface Catholic Church.
Alice was ambitious and full of energy. Along with raising their five children, Alice also worked tirelessly alongside Albert on their family farm in Richfield and hauling milk. In addition, Alice and Albert owned vacation rentals (Memory Lane Cottages) on North Twin Lake in Conover, Wisconsin.
For 30 years they treated their guests like family, whether it was an afternoon of watersports or enjoying a cocktail overlooking the lake or snowmobiling in God's country.
Alice and Albert also enjoyed traveling abroad to Germany, Switzerland, Austria, and Ireland. Their travels also took them to Mexico, Florida, California and Branson Missouri. Dancing was also something the inseparable couple enjoyed. Alice and Albert were known to tear up the dance floor dancing the polka like no others.
Some of Alice's fondest memories were spending time with her children, grandchildren and great grandchildren. Holidays were very important to Alice and she made sure there was an opportunity for all to gather.
Alice loved people and devoted her life to helping others. A few years before her passing, she continued to volunteer at her church, St. Gabriel, and at the Slinger Food Pantry. She was also a past member of St. Mary's Christian Mothers in Richfield. She and Albert were members of the Conover Snow Buddies and Kettle Moraine Snowmobile Club. They volunteered their time to the club by maintaining and grooming trails and roasting pigs for the club's fund raiser.
Alice was a fabulous baker and cook. Her famous German Potato salad will be missed. For many years she prepared her potato salad for Pleasant Hill Tap where many people enjoyed a fish fry and requested her potato salad. It was a staple at family gatherings and was always proudly served in her flowered ceramic bowl.
In recent years, Tuesdays typically took Alice to the Hartford Senior Center where she enjoyed an afternoon of sheepshead and lunch. In addition, Alice loved gathering with her friends and her sister-in-law's for cards and dominos. Seven years ago, Alice moved into a beautiful condo complex and took it upon herself to start a monthly social gathering. There she met some wonderful people and lasting friendships. Most recently Alice moved into Serenity Villa IV and received the extra help she needed. Even though she was there a short time, she made quite the impression on her care givers, and enjoyed the activities with her new friends.
Alice is survived by her loving children Albert "Butch" (Kathy) of Richfield, Doreen (Joe) Mechenich of Slinger, Gary (Sharon) of Cedarburg, Dan (Linda) of Richfield and Kris (Roman) Weninger of Slinger. She was lovingly known as "gramma" by 16 grandchildren, Nanci (Scott) Rowe, Jen (Tim) Hardy, Teri (Chris) Huenink, Denise (Scott) MacFarlan, Buddy (Kim) Mechenich, Brian ( Chris Rowan) Mechenich, Joe ( Jen) Mechenich, Angie (Randy) Rothman, Jody (Tanya) Schulteis, Jeff ( Marie) Schulteis, Jon (Kellie Nelson) Schulteis, Kimberly (Marco) Pineda, Traci (Eric) Eberly, Jamie (Jay) Neary, Eric (Taryn) Weninger, and Mac ( Becca) Weninger. Alice has 41 Great-grandchildren whom she loved with all her heart. She is also survived by her sister-in-laws Margaret Held, Clara Mae Bayer, Leila Schulteis, Marilyn Merten and many cherished nieces, nephews and friends.
Alice was preceded in death by her husband; Albert T., parents; Joseph and Anna Kohl, In-laws; Albert W. and Clara Schulteis, siblings; Loretta (Erwin) Fleischmann, John (Evelyn) Kohl, and infant brother Joseph. She was also preceded in death by her sister and brothers in-law; Ted (Adelia) Schulteis, Burnette(Hans) Achenreiner, Eleanor(Tom) Mergener, Richard Held, Gilbert Bayer, Ralph Schulteis and Theodore Merten.
Alice's family sends their heartfelt appreciation to her care givers at Brightstar, and Serenity Villa IV, along with Horizon Hospice for the loving care they provided.
Visitation for Alice will be on Tuesday January 3 from 3 p.m. – 7 p.m. at the Phillip Funeral Home in West Bend with recitation of the rosary to follow. There will also be a one-hour visitation starting at 10:45 a.m. on Wednesday January 4 at St. Gabriel church in Hubertus with a mass of Christian burial at noon. Her final resting place will be at St. Mary's Cemetery in Richfield with a private family service at a later date.
In Lieu of flowers, memorials can be made to St. Gabriel's Parish, Hartford Senior Friends or Slinger Food Pantry.
As Alice would say," It's never good-bye, only so long. See ya later."