June 25, 2019 – Jackson, WI –Bernice Johnson, 98, entered God's loving arms peacefully on June 22, after a brief stay at Kathy Hospice in West Bend. Bernice was born in Milwaukee Wisconsin to Walter and Margaret Arndt. Loving wife of the late Edwin Johnson. Dear mother to Diane, Carol, Nancy, Judy, Tom and Barbara. Together raising their family Bernice and Edwin moved from Milwaukee, to California, to Fond du Lac and then back to the Jackson area. They worked hard together and grew a family business in Jackson, but most of all loved their family and enjoyed spending time in the Northwoods of Wisconsin at the "cottage" in Conover.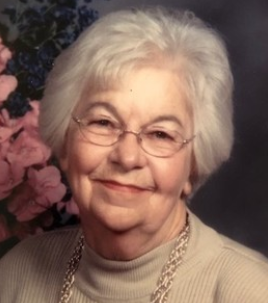 Bernice is survived by her children; Diane (the late John) Seidler, Carol (the late Wally) Jors, Nancy (Tom) Boesch, Tom (Jeri) Johnson and Barbara (Rod) Hendrix and her "Brother Bob" Arndt of St. Louis, MO. She is the proud "Gram" of Paul (Elana) Seidler, Bob (Beth) Jors, Michelle Jors, Kristin (Bob) Tanzi, Bryan Boesch, Jennifer Wachendorf (dear friend Greg), Rebecca (Tom) Petersen, Jessie Johnson, Jeff (Lisa) Johnson, Joe (Meghan) Johnson, Janet (Jesse) Kremer, and Mark Hendrix along with their extended families and friends. She is also the proud "Great Gram" to 23 wonderful great grandchildren, numerous nieces, nephews and other relatives. Bernice leaves behind so many that loved her and so many more that called her Gram too. Bernice was preceded in death by her husband Edwin, daughter Judy Riemer, and sons-in-law John Seidler, Wally Jors and Tom Riemer, her parents, sister Lucille Moser, and bother in law Jack Moser.
In honor of Bernice, memorials may be directed to David's Star Evangelical Lutheran Church and Kathy Hospice in West Bend, WI. Bernice's family would like to give a very special thank you to Serenity Villa and Kathy Hospice and all of their staff for the wonderful and loving care of their mother in the short time she was with them.
A Funeral Service for Bernice will be held on Saturday June 29 at David's Star Ev. Lutheran Church (2750 David's Star Dr. Jackson) at 11:00 a.m. with Pastor Michael Woldt presiding. Visitation will be at the church on Saturday from 10:00 a.m. until time of service at 11:00 a.m. Luncheon will follow the service. Interment will take place at 2:30 p.m. at Washington County Memorial Park in West Bend.