Obituary | Betty Jane Andritsch, 90, of Germantown
September 17, 2019 – Germantown, WI – Betty Jane Andritsch (nee Wikkerink), 90, of Germantown, Wisconsin passed away Sunday, September 15, 2019 at the Cedar Lake Community in West Bend, WI, surrounded by her loving family.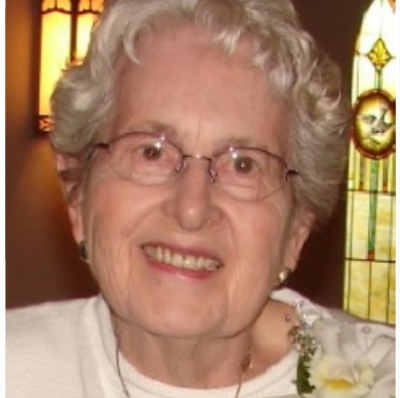 Betty was born October 15, 1928 in Milwaukee, WI to Lance and Molly (nee Dittrich) Wikkerink. She was united in marriage to Edward Andritsch on July 5, 1947 Milwaukee, WI. Betty met Edward when both worked at A & P grocery stores. Betty enjoyed sewing, quilting, making flower arrangements, listening to music, gardening, cooking and antique hunting.
Betty is survived by her loving children, Daniel, William (Ladonna), David (Nancy), Brian (Nancy), and Diane (Richard) Saari; grandchildren, Paul (Joanne), Troy (Stephanie), Jason and Aaron (Deanna) Andritsch; LeeAnn (John) Hibicke; Rebecca (Shawn) Hurla; Renee, Christopher (Sarah), Eric (Rebekah), James, Jamie, Jennifer Andritsch; Tracey (Adam) Strelka; great-grandchildren, Jackson, Aubrianna, Justin, Alena, Logan, Conner, Parker, Mason, Lucas, Grace, and Ryan Andritsch; Ava, Tristan, Noah and Blaise Hurla; brother Lee (Lydia) Wikkerink sister-in-law, Mary Andritsch. She is further survived by other dear relatives and friends.
She is preceded in death by her husband Edward, parents, daughter Kathleen (Gene) Moede, sister June (Leon) Chernos, brother-in-law, Frank Andritsch Jr. and great-granddaughter, Naomi.
Funeral Services for Betty will be held Sunday, September 22, 2019 at 1 p.m. at the Shimon Funeral Home, 824 Union Street Hartford, WI 53027. Family will greet relatives and friends at the funeral home on Sunday from 11 a.m.- 12 :45 p.m.
Interment in Southern WI Veterans Memorial Cemetery, Union Grove.
The Andritsch family would like to express their sincere gratitude to the staff at Cedar Lake Community for its loving care of Betty.