April 28, 2020 – Slinger, WI – Betty Mae Lighthizer passed away peacefully April 26, 2020 At Serenity Villa in slinger. Betty was born In Fairchild WI. To Robert and Alma Lange July 12th 1930.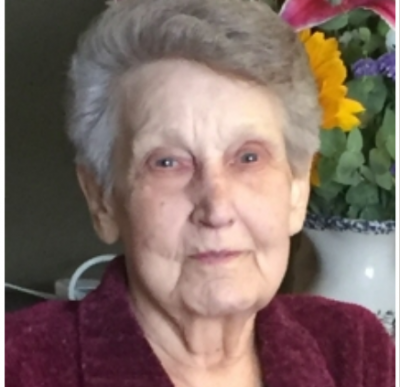 Betty married Dale "Bud" Lighthizer in 1950 in Eau Claire, WI. They began their life together in Augusta WI. She and Bud also resided in Black River Falls, WI, until 1962 and then moved to Slinger, WI, where they resided for their remaining years. They were the parents of four sons Jeffrey, Michael, Dorman and Greg. Betty was a member of St Paul's Lutheran Church of Slinger. A past member of the St Paul's dart ball team, Ladies Aid, Sunday school teacher and a Little Learners Aide.
Betty was an avid Brewers fan and she truly enjoyed watching her grandkids and great-grandkids play sports throughout the years. Betty enjoyed spending time with her family and friends and babysitting her grandchildren in their younger years.
Betty is survived by her sons; Jeffrey (Beth) of Slinger, Michael (Kathy)of Allenton WI, Dorman (Maggie) of Slinger WI and Greg of Slinger, WI. She is also survived by her grandchildren Dan (Melissa) Of Slinger, WI, Mark (Brenda) of Slinger, WI, Brian (Jaclynn) of Slinger WI, Adam of Hartford WI and Jeraed of Slinger, WI; four great-grandsons, Coy, Cole, Casen, and Asher Lighthizer; four great-granddaughters, Kiara, Haley, Taylor and Ryleigh Lighthizer. She is also survived by her sisters, Bernice Kawell, Irene (Dick) Grimm; brother-in-law, Kenny Ekern; also many nieces and nephews. She was preceded in death by her parents; husband, Bud in 1991 and one great-granddaughter; seven sisters and one brother.
A private Graveside Service will be held at Union Cemetery in Slinger, WI. A Celebration of Life will be held at a later date.
The family requests no flowers and any memorials to, Village of Slinger Parks and Rec. Department, Washington County Humane Society or St Paul's Church Slinger.
The family would like to thank all members of Serenity Villa for their support and comfort given to our mother and our family during her stay there. They are truly a caring and giving facility. Also a special thanks to Pastor Golisch.