June 4, 2019 – Lomira, WI – Donald "Don" Gunderson, Sr., 88, of Lomira was called home to be with the Lord on June 2, 2019 at Clearview Nursing and Rehabilitation in Juneau.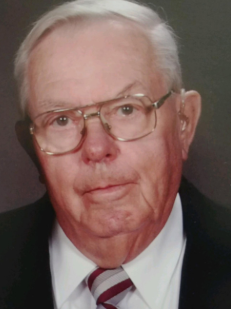 Donald was born on October 6, 1930 in Rio to Olaf and Laura Gunderson (nee Hamre).  He was united in marriage to Patricia Heft on July 22, 1950.  From this marriage Donald Gunderson, Jr. was born.  Later, Donald Sr. was united in marriage to DeLora Johnson (nee Eng) on October 1, 1960.  She passed away on April 3, 1984.  He was united in marriage to Kathleen "Kate" Zehren (nee Emmer) on November 24, 1984.  Kate passed away on June 7, 2018.
Don graduated from Rio High School in 1948.  He served overseas in the Navy for four years in part during the Korean War.  Don began his career in feed milling around 1952 at the Rio Co-op.  He then managed the Deerfield Co-op.  Don owned and operated Lomira Farm Supply from 1960 – 2010, also during that time he bought Blue Band Feed Mill in Lomira.
Don was very community-minded and loved Lomira and Dodge County.  He enjoyed serving on the Lomira Village Board, which he chaired for many years. His main achievement there was overseeing the installation of a sanitary sewer treatment system.  Don was a lifetime member of the American Legion and Lions Club and worked with them to update the swimming pool and bathhouse.  He served on the Dodge County Board nearly 30 years as the financial officer. Don was instrumental in building the Lomira baseball fields, bringing in Quad Graphics, and establishing the finances to update the Dodge County buildings including Clearview Nursing and Rehabilitation. He was a member of St. John's Lutheran Church.
Working six days a week, he loved to take Sunday trips in good weather. He also enjoyed long weekend meetings at feed dealer conventions. When Don was not at work, he loved to spend the day fishing on Lake Puckaway in Green County, Wisconsin.  His greatest joy in retirement was sitting in the garage watching the chipmunks while smoking a stogie cigar.  Don loved his stogie cigars and was rarely seen without one.  He was a Packer fan and had 'Milwaukee tickets' to four Packer games each year.
Those Donald leaves behind to cherish his memory include; daughter-in-law, Lucy Gunderson; Dawn (Gregg) Mallory, Della Haesler; step-sons, Eugene (Pegg) Johnson, John (Joanne) Zehren and Mark Zehren. He is further survived by 19 grandchildren, 27 great-grandchildren, former wife, Patricia Stancer, many nieces, nephews, other relatives and friends.
In addition to his parents Olaf and Laura, and wives, DeLora and Kate; Donald was preceded in death by his son, Donald Gunderson, Jr.; and four siblings, Arlene (Willard) Johnson, Willard (Rosie) Gunderson, Olaf "Lyle" (Dorothy) Gunderson and Dorothy "Toots" (Robert) Grossman.
Funeral Service for Don will be held at 11 a.m. on Saturday, June 8, 2019 at St. John's Lutheran Church (550 Water St. – Lomira WI 53048) with Pastor John Warmuth officiating.  Entombment at Shrine of Rest Mausoleum at Ledgeview Memorial Park, Fond du Lac.
Don's family will greet relatives and friends at Church on Saturday from 10 a.m. until the time of service.
Don's family extends their heartfelt appreciation to the staff at Clearview Nursing and Rehabilitation for the loving care they provided.
The Myrhum Patten Miller & Kietzer Funeral Home of Lomira has been entrusted with Donald's arrangements.