April 19, 2021 – West Bend, Wi – Geoffrey Graeme Maclay Sr. passed away peacefully at his home on Big Cedar Lake in West Bend on Saturday, April 17, 2021. Geoff was born on February 9, 1924 in Buffalo, New York to Geoffrey Edward Maclay and Elsa Perry (nee Lake) Maclay.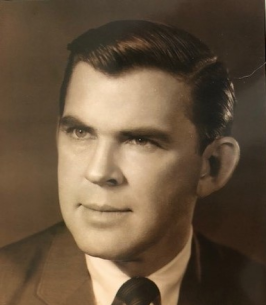 Geoff is survived by his loving wife of 75 years, Edith (nee Von Schleinitz) and his daughters Christine (Gil) Lindemann and Shelley (Paul) Zucchi and daughters-in-law Karen (nee Bulger) Maclay and Patty (nee Liban) Maclay, as well as nine grandchildren and 10 great-grandchildren.
Geoff is preceded in death by his sons, Geoffrey G. "Rip" Maclay Jr. and Tod J. "Todder" Maclay, as well as his sister Anne Perry (Charles) Reynolds.
Geoff was born in Buffalo and grew up in Albany, New York, attending Albany Academy and matriculating to Dartmouth College where Geoff played ice hockey, graduating from Dartmouth with the Class of 1945 after serving in the Pacific during World War II as an officer in the Navy on the USS Converse (DD-509), a Fletcher class Destroyer. During this period, Geoff met Edith, completed post-graduate work at Dartmouth and the Harvard Business School, and eventually re-located to Milwaukee to raise four children.
Upon arriving in Milwaukee, Geoff joined Ladish Company, working for nearly 20 years before starting his own real estate management business.
Geoff also continued his passion for the game of ice hockey in the Milwaukee area. He was one of the original founders of the Milwaukee Winter Club and led the effort to install the first artificial ice rink in the Milwaukee area in 1961. He was elected to the Wisconsin Hockey Hall of Fame in 1976.
Geoff was active philanthropically and in the community. He served as a trustee of the Milwaukee Country Day School, trustee and Board President of the University School of Milwaukee, Commodore of the Cedar Lake Yacht Club and President of the Dartmouth Alumni Association of Wisconsin.
Geoff's lifelong passion was land conservation. In 1974, he founded the Cedar Lakes Conservation Foundation ("CLCF"), one of Wisconsin's first land trusts, with a vision to sustain the natural beauty, clean water and biodiversity of the region for generations to come. To date, CLCF has helped to protect over 2,500 acres in the Cedar Lakes region.
Geoff was also a founding member of Gathering Waters, Inc., Wisconsin's alliance for land trusts, and in 2006 he was awarded its Harold "Bud" Jordahl Lifetime Achievement Award. Over the years, Geoff worked closely with the Wisconsin Department of Natural Resources, the National Park Service, and the Ice Age Trail Alliance to protect the unique Kettle Moraine topography in Washington County. Geoff also served as one of the original architects for Wisconsin's Knowles-Nelson Stewardship Program.
Geoff enjoyed spending time at his two favorite places in the world, Big Cedar Lake in West Bend, Wisconsin, and Nantucket Island, Massachusetts, often in the company of family, friends or numerous canine companions. He will be missed by all of those his life impacted, and his memory will live on in all those that loved him.
In lieu of flowers, contributions should be sent to the Cedar Lakes Conservation Foundation.

A Memorial Service will be held at a later date.