July 22, 2019 – Kewaskum, WI – George E. Lendved, 82, of Kewaskum was called home to be with the Lord on July 21, 2019 at Froedtert St. Joseph Hospital in the Town of Polk surrounded by his loving family.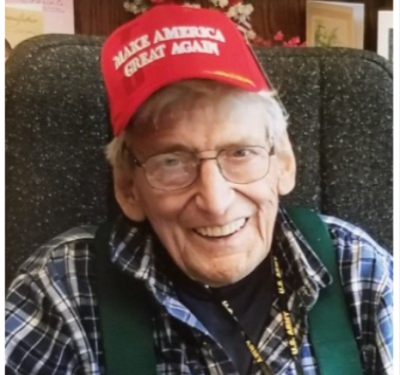 George was born on May 2, 1937 in Milwaukee to Leonard and Carol Lendved (Olson).  He was united in marriage to his high school sweetheart Judy Bodinger on June 25, 1955 at Fountain Park United Methodist Church in Sheboygan. George and Judy resided in the New Fane area since 1958.
George graduated from Central High School in Sheboygan (1955). He was a Maintenance Supervisor at the West Bend Company for 44 years, retiring in 1999. George had a great sense of humor and was an amazing joke teller. He enjoyed snowmobiling. George was a founding member of the New Fane Kettle Riders Snowmobile Club (1972). He served in the Northern Unit of the Kettle Moraine Snowmobile Association from 1977 to 1983, serving all of Sheboygan County. George continued on to become Vice President of the Association of Wisconsin Snowmobile Clubs (AWSC) located in Madison. He served as Vice President from 1982 to 1986, and then he became President of the AWSC from 1986 to 1990. George was a member of St. John Lutheran Church in New Fane where he was very active.
Other than snowmobiling, George enjoyed traveling, camping, farming, growing his favorite flower – roses, and collecting John Deere garden tractors. He was an avid Trump supporter and FoxNews advocate.  His pride and joy was his workshop. George always said, "I can fix anything!" and "I never worked a day in my life; what I did for a living was also my hobby!"  He had a big heart and was always willing to help his neighbors and anyone else who asked.
Those George leaves behind to cherish his memory include his wife of 64 years, Judy; three children, Larry (Nadine) Lendved, Nancy (Ed) Kleinke, and Bonnie (Darryl) Zanow; eight grandchildren, Julie (Paul) Strassman, Jessie (Terry) Jordan, Jon (Ali) Lendved, Carrie (Travis) Roell, Lindsey (Keefe) Olig, Cassie (Jeff) Lindgren, Brooke (Justin) Krueger, and Graeme (Jennifer) Zanow; three step-grandchildren, Angela Kleinke, David Kleinke, and Lindsey (Jason) McClaren; 19 great-grandchildren, six step-great-grandchildren, and one great-great-granddaughter due in August.  He is further survived by a sister-in-law Jill (Charles) Anthony Eggenberger; two nieces, Kim (Kelly) Vandehy and Lisa (Mark) Ceranski; honorary grandson, Grant Lubner; other relatives, friends and faithful canine companion, Duke.
In addition to his parents, George was preceded in death by his parents-in-law, Joseph and Alma Bodinger; and brother-in-law, Leland Anthony.
Funeral Service for George will be held at 11 a.m. on Saturday, July 27, 2019 at St. John Lutheran Church, N683 County Rd S, New Fane, with Rev. Mark Eckert officiating. Interment at St. John Lutheran Cemetery in New Fane.
George's family will greet relatives and friends at the Myrhum Patten Miller Kietzer Funeral Home, 215 Forest Ave., Kewaskum on Friday, July 26, 2019 from 6 p.m. to 8 p.m. Visitation will continue the next day at St. John Lutheran Church in New Fane from 9 a.m. until time of service.  Memorials to St. John Lutheran Church in New Fane.
George's family extends their heartfelt appreciation to Pastor Mark Eckert and the staff at Froedtert St. Joseph Hospital, especially Dr. Eric Olafsson and Dr. Surrenda Patel for the loving care they provided.