April 12, 2023 – Slinger, WI – Harry Emil Thom, 89, of Slinger, Wisconsin passed away on Monday, April 3, 2023, at the Aurora Medical Center in Hartford, WI.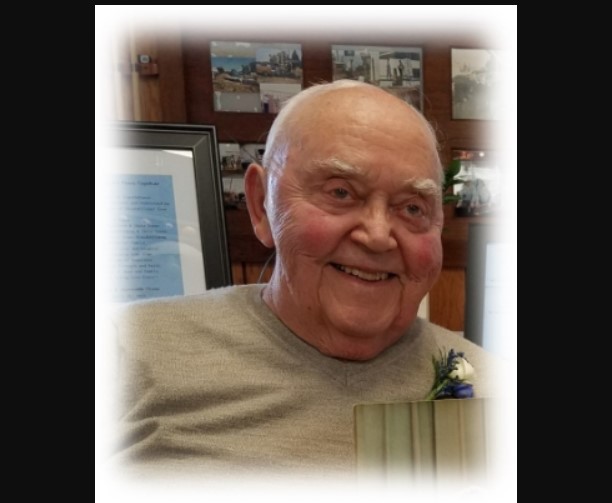 Harry was born on July 13, 1933, to parents Ervin Thom and Lydia (nee Bischoff) in the Town of Herman. He was united in marriage to his wife, Jeannette (nee Pfalz) on April 25, 1953, and they have been married for 69 loving years.
Harry joined the
United States Army
in 1953, proudly serving for two years as an engineer operating heavy equipment in Germany. He dedicated 34 years to working for the City of Hartford while taking on many roles and positions within those 34 years, some including a heavy equipment operator, garbage services, and superintendent.
After normal work hours, Harry worked part-time with friends doing small cement jobs. In his free time, his passion and talent were in his custom woodworking. Harry built and designed many creations for his friends and family, some memorable pieces being lawn décor, custom home wood décor and furniture, wood toys and trucks for his grandchildren, and beautiful one-of-a-kind bird feeders.
Harry and Jeannette shared many travels together over the years, with trips to Hawaii, Jamaica, Alaska, and many more. The highlight of all these trips and one of Harry's favorite hobbies was his love for golf; he always made sure to find a golf course no matter where they were vacationing. Besides Harry's love of golf, he also enjoyed dancing on the weekends and using their pop-up camper for family camping trips. He will be remembered for his creativity, love for his wife and family, and hard-working ethic. Harry will be missed dearly by many.
Harry is survived by his beloved wife, Jeannette; loving children, Debbie (Greg) Hartwig, Candy (Steve) Svien, Denise (Mary) Thom; 12 cherished grandchildren and 13 treasured great-grandchildren.
He is preceded in death by his parents; parents-in-law, Frank and Ella Pfalz; sister, Alice Thom; daughter, Christine Becker; grandchildren, Rachel and Bradley Hartwig.
Funeral services for Harry will be held on Monday, April 10, 2023, at St. Paul's Lutheran Church, 799 St. Paul Dr., Slinger, WI. The family will greet friends and relatives at the church for visitation from 4 p.m. to 5:50 p.m., and the funeral service will start at 6:00 p.m. with Reverend Ben Golisch officiating.