Obituary | Joseph C. Reinders, 94,of West Bend
November 30, 2019 – West Bend, WI –Joseph C. "Joe" Reinders entered eternal rest November 27, 2019. He was born September 24, 1925 and united in marriage to Marlene Hartleb June 12, 1954 at Sacred Heart Church in Allenton.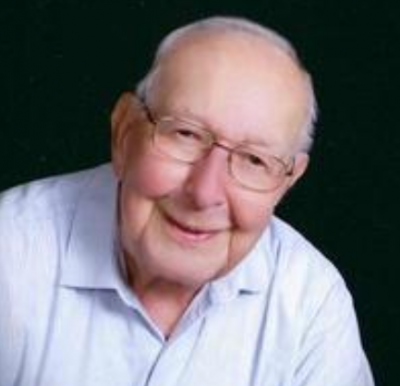 Joe and Marlene owned and operated Joe's Red Owl in Allenton from 1955 to 1985. After his retirement from the store, Joe had more time for family activities at their home on Big Cedar Lake. He enjoyed creating many woodworking projects for his family, like the multi-purpose step stool for each of his children.
Joe, a World War II Army veteran, continued to serve his fellow veterans as Captain of the American Legion Fohl-Martin Post 483 Honor Guard through graveside services and Memorial Day ceremonies for 70 years. Joe was very appreciative of the opportunity to join fellow veterans on an Honor Flight May 14, 2011.
Joe also served the community of Allenton as a volunteer firefighter for more than 50 years including time as Assistant Chief and Treasurer.
In 2015 Joe and Marlene moved to Cedar Ridge where they made new friends and enjoyed opportunities to play Sheepshead and attend the many social activities.
Those he leaves behind to cherish family memories in addition to his wife of 65 years, Marlene, include 7 children: Martha (Tom) Merten, Joseph (Julie) Reinders, Lisa (Jim) Modaff, Karl (Joann) Reinders, Lois (Duane) Knudson, Nancy (Peter) Boden, Kevin (Karen) Reinders, 14 grandchildren and 15 great-grandchildren. He is further survived by his brothers and sisters: Paul (Shirley) Reinders, Teresa (Mathias) Stoffel, Mary Ann Mayer, Rita Bruckert, Judy Beck, Alice (Peter) Schulteis, Alfred (Shari) Reinders, and Rose (Ray) Zingsheim; extended family member Lorraine Boden; many nieces and nephews; other relatives and friends.
Family members who preceded him in death are his infant son Peter, infant grandson Ryan Merten, his parents Alfred and Olive (Bohn); brothers and sisters: Cecilia Kroll and her husbands Monroe Beger and Edward Kroll, Alex Reinders and his wife Marilyn (Boden), Clara Boden and her husband Leroy; in-laws Asella Reinders, Lester Mayer, Ralph Bruckert, Bernard Beck, Calvin and Rose (Stoffel) Hartleb and Calvin Hartleb Jr.
The family would like to thank the care team from Heartland Hospice and Dr. Moniba Nazeef at the VA hospital in Madison for the compassionate care and support they provided our father.
A Mass of Christian Burial will be held Wednesday, December 4 at 6:00 p.m. at St. Lawrence Catholic Church, 4886 Hwy 175, Hartford, WI , with Very Rev. Richard Stoffel presiding. Interment will be at St. Mathias Cemetery in Nabob. The family will greet relatives and friends at the church on Wednesday from 3:00 p.m. until 5:45 p.m.
In lieu of flowers, memorials to The Stars and Stripes Honor Flight (PO Box 867, Menomonee Falls, WI 53052) or American Legion Fohl-Martin Post 483 (PO Box 2, Allenton, WI 53002) or Allenton Volunteer Fire Department (PO Box 107, Allenton, WI 53002) are appreciated.
The Schmidt Funeral Home of West Bend is serving the family.