June 29, 2020 – Hartford, WI – Judge Richard T. "Dick" Becker, 84, passed away on June 22, 2020, at the Aurora Medical Center in Hartford.
Richard was born on July 24, 1935, to Raymond and Loretta (nee Cotter) Becker.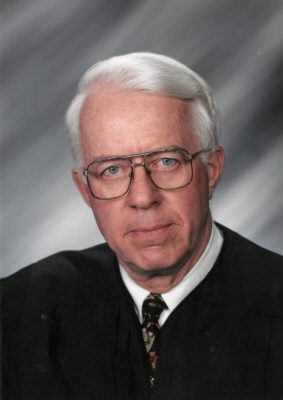 He married Kay Boorman on June 20th, 1959, at St. Mary's Catholic Church, Lemmon, SD. They lived and worked in Chicago for a brief time before returning to Judge Becker's hometown, Hartford, WI, to raise their family.
Judge Becker graduated from Marquette University Law School in 1959. He served as Washington County District Attorney from 1961 to 1966 while also serving the people of Washington County in private practice in Hartford. He served as a judge for Washington County from 1978 until his retirement in 1999.
He is survived by his children: Jerome (Dr. Karen Hegmann; children – Grace, Richard, Claire), Thomas (children – Mikaela, Andrew, Delaney), Gregory (Kristine; children – Joshua, Alyssa, Samuel, Isabella), Ann Becker, Joseph (Cheri; children – Matthew, Abby, Mary, Jane), Kathleen Harris (Jason; children – Jack, Cody, Sydney, Wyatt) and Margaret Swyers (Heath; children – Daniel, Thomas, Catherine). He is also survived by siblings Robert (Maureen) Becker, Terri (Richard) Merkel, Bonnie (Thomas) Callen and Paul (Sarah) Becker; brothers-in-law Bruce (Pat) Boorman and Carl Gahlman; and sister-in-law Jane Boorman. He is further survived by nieces, nephews, other relatives and friends.
He was preceded in death by his wife (Kay), parents (Loretta and Ray), stepmother (Teresa Becker), brother (Jerome), and sister (Mary Gahlman).
A Celebration of Life gathering for Judge Becker will be held on Tuesday, June 30, 2020 at the Schauer Arts Center (147 N Rural St. Hartford, WI 53027) from 4 p.m. – 6 p.m., with a brief program at 6 p.m.
Memorials are appreciated to St. Kilian Education Fund (264 W State St. Hartford, WI 53027), the Schauer Center (147 N Rural St. Hartford, WI 53027), or the Washington County Historical Society (320 S 5th Ave. West Bend, WI 53095).
The Family wishes to thank Dr. Eric Weber and his nurse Sandy, the Staff at the Gardens of Hartford and the nursing staff at Aurora Medical Center in Washington County for their excellent care and support of Dad over the years.
Shimon Funeral Home is assisting the family.