Obituary | Kyle Barrett, 40, of Kingston, MI formerly of West Bend
March 21, 2020 – West Bend, WI – Kyle Barrett, 40, of Kingston, MI passed away unexpectedly Saturday, March 7, 2020 at Covenant Medical Center in Saginaw, MI.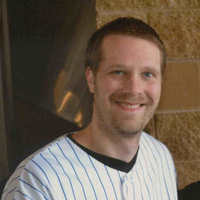 Kyle was born in West Bend, Wisconsin October 22, 1979 son of Keith and Katherine (McCardle) Barrett. He graduated from Campbellsport High School with the Class of 1998. Kyle married Katie Roberson on June 14, 2010 in Bar Harbor, Maine.
He was a dedicated and loving husband, father and son. His greatest joy was spending time with his family. Kyle never missed an opportunity to be with his kids and spent countless hours attending each and every activity. He enjoyed learning about history and passing that on to his family. Kyle was a Junior High Football and JV Basketball coach for Marlette Community Schools. He also coached for both of his son's baseball teams. Kyle took an interest in and had a special bond with all of the players on his teams.
He was a committee member for the MASAP Program. Kyle was a huge Green Bay Packers fan as well as all Wisconsin sports teams. He was a proud Wisconsinite and often started a sentence with "Well in Wisconsin…"!
He is survived by his wife, Katie Barrett; children, Grant and Owen; parents, Keith and Katherine Barrett; father and mother-in law, Ted and Marsha Roberson; sister-in-law, Mandy (Bryan) Austin and their dog Watson; uncle, Patrick (Gail) McCardle; several aunts, uncles, and cousins; special friends, Jim (Heather) Marshall and their children, Steve (Shelley) Walta, Jim Billings, and Mike Fenrick.
Kyle was preceded in death by his grandparents, Leo and Viola Barrett; and Warren and Marcie McCardle.
The family services have already been held.
Burial will follow at Novesta Township Cemetery in the Spring.