West Bend, WI – On December 30, 2022, Mark Dunker, 33, of West Bend, Wisconsin hopped on a train to meet his Maker, and embarked on the greatest adventure known to man. He leaves behind many who are confused and saddened by the sudden and premature timing of his departure, but anyone who truly knows Mark understands that he has always done things on his own time, and in his own way. He probably won't think to send a postcard, but we rest knowing that he learned what he needed to know from us.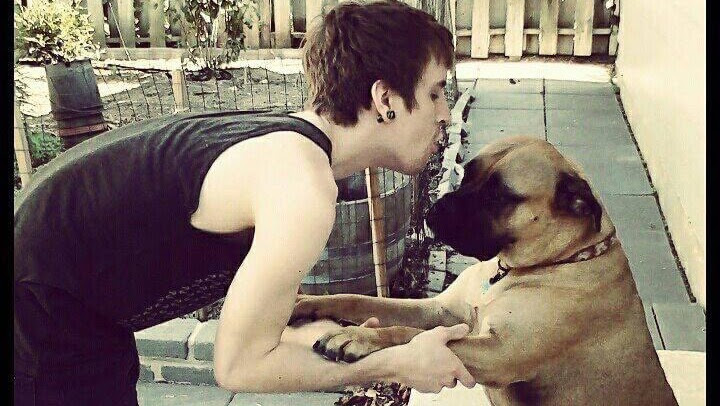 Even though Mark departed far too soon, his presence in this world has been felt and seen by many, all of whom will surely remember him by his kindness, spontaneity, and generous sense of humor.
Throughout his years in elementary school in Colorado, up until his graduation from West Bend East High School, he was always surrounded by a seemingly impossible number of friends, with whom he never seemed able to spend enough time playing video games,
skateboarding, or fooling around in local parks. Throughout his working years, Mark's interests led him in many different directions, but his intense and lifelong love for animals often saw him working with dogs. Whether bathing and grooming at his family's grooming salon The Pooch Palace, or caring for dogs in other settings, Mark always seemed most fulfilled when met with wagging tails every day.
He was also an avid connoisseur of action, horror, and fantasy films, any and all types of video games, and most importantly, music. Mark's passion for alternative, rock, and metal music heavily influenced his life – from how he spent his time, to the people he met and cared about.
He could often be found playing drums with friends in a basement somewhere, or moshing at whatever concert he could get tickets to.
As is the way of this world, life was not always a cakewalk for Mark. Those who knew him well were likely aware of his struggles with mental health and substance abuse, which he had been wrestling with for many years. Though his recovery included pitfalls and setbacks, his kind and trusting nature ensured that he had an abundance of friends ready and willing to help him in any way they could – even if that meant a good kick in the ass.
Family and friends are heartbroken to see him taken from this world before he had the time to defeat these illnesses and live the life he was meant to. We are eternally grateful to the people God put in his path during the last 8 weeks of his life.
Lexi Hermes, and Kenya from The Milwaukee Rescue Mission spoke words of life to Mark under some extraordinary circumstances, showing us all that we are meant to BE the church for other people in our daily lives. We find comfort in knowing that Mark is now free to meet our loving Creator without the burdens he carried while occupying his earthly body.
Mark is a kind soul, and we trust that God has carried him home.
Mark is survived by his parents – Dawn and James Dunker, three younger sisters – Tannen,
Brylan, and Emryn, and his son – Finnegan.
Click HERE to read the rest of Mark's story and service details.
We would like to thank Tracy at Phillips Funeral Home for her kind care during this time.