Obituary | Patricia Jean Gonring, 96, of West Bend
April 7, 2019 – West Bend, WI – Heavenly Irish eyes were smiling on April 6, 2019 when the Lord called home Patricia Jean (nee Cox) Gonring, 96, of West Bend.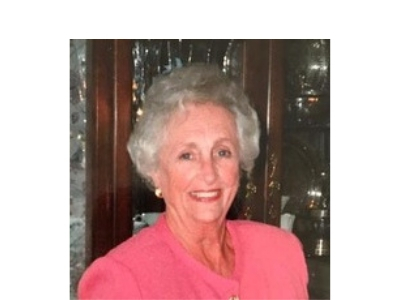 Patty was born on St. Patrick's Day, March 17, 1923 in Wautoma, Wisconsin, the fourth of five children born to Dr. John and Sophy Cox. She was raised in Milwaukee, graduated from Holy Angels Academy and attended Marquette University where she met her husband of 62 years, Michael J. Gonring, Jr. who predeceased her on July 28, 2007.
Also preceding her in death were her parents, her four siblings, Geraldine (Steve) Keane, Mary (Robert) Smith, Kate (Robert) Stemper, Dr. Thomas (Patricia) Cox and their spouses. She was also preceded in death by her parents-in-law, Michael, Sr. and Lena Gonring, a brother-in-law, Robert Gonring, and his wife Diana.
She is survived by her five children, Beth Allen of Las Cruces, New Mexico, Michael (Robin) Gonring III of Whitefish Bay, Hon. Andrew (Patricia) Gonring of West Bend, Amy Fotsch of Elm Grove and Meg (Steve) Hopp of Akron, Ohio.
Patty exhibited complete class and grace up to the end but could be tough as nails if the occasion required. She was proud of her strong Catholic faith, which included a daily novena, and her family and her Irish heritage. She held strong opinions on all subjects from the Pope to politics to the Packers and was unafraid to let others know her thoughts. She was a voracious reader and a lover of sports, particularly Marquette basketball. She disliked managers who kept starting pitchers in too long and running backs who carried the ball like it was a loaf of bread.
Although she left strict instructions not to list the names of her 23 grandchildren and 41 great-grandchildren in any obituary as she thought it was braggadocious, she has been overruled. Her grandchildren are: Erinn (Kevin) Wick, James (Katrina) Endrizzi, Elyse (Jim) Ross, Molly (Kirk) Krychowiak, Maggie (John) Vercoe, Nell (Tom) Mussoline, Mike, Pete (Molly), Katie, Kevin, Bizzie, Anne, Jane, Ben (Wendy) and Nick (Kelsey) Gonring, Amanda (Frank) Palmstein, Katie (Luke) Deppert, Jenny Fotsch, Alison (Peter) Kleibor, Tim (Rebecca) Fotsch, Bridget (Nick) Kopcho, Dr. Libby (Brian) Thomsen and AJ (Blair) Hopp. Her great-grandchildren are: Tyler, Jake, Emily and Luke Sutton, Sean and Ryan Wick, Brandon, Jillian, Mikey and Joey Endrizzi, Annabelle, Maddie, Tessa, Jed, Sophie and Adam Martin, Matt White, Bryce and Kyle Krychowiak, Ella, Murphy and Cal Vercoe, Joe and Rose Mussoline, Jake, Zach, Noah, Seth and Millie Gonring, Brooke, Adam, Kennedy, Gabe, Layla, Riley and Eli Deppert, Gwen, Ellie and Sam Kleibor, Marty Fotsch and Margot Thomsen.
The family would like to thank the staff of Cedar Bay East for its thoughtful and kind care of Mom over the many years she resided there.
A Mass of Christian Burial will be held on Tuesday, April 23 at 6 p.m. at Holy Angels Catholic Church. Visitation will be at the church preceding Mass, starting at 4 p.m.
Memorials may be made to the Holy Angels School Trust Fund, 230 N. 8th Avenue, West Bend, WI 53095.