Sheboygan, Wi – Reverend Jerome "Jerry" Victor Repenshek,  85, peacefully passed away on Thursday, December 29, 2022 at The Kathy Hospice in West Bend. He was born on December 7, 1937 in Sheboygan, WI to Frank and Mary (nee Finst) Repenshek.
UPDATE: There will be a livestream of Thursday's funeral service beginning around 10:45 a.m. Details will be posted Thursday morning on WashingtonCountyInsider.com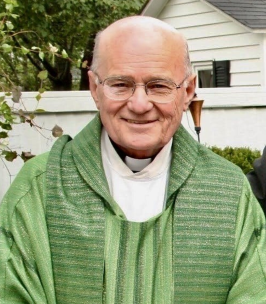 Father began his priestly formation at Saint Francis Minor Seminary in St. Francis from 1951 – 1956 and Saint Francis Major Seminary in St. Francis from 1956 – 1963. Father was ordained to the priesthood on May 25, 1963, by Most Reverend William E. Cousins at the Cathedral of St. John the Evangelist in Milwaukee.
Father Repenshek was first assigned to St. Mary Parish in Port Washington on July 1, 1963, as Assistant. On July 7, 1965, he was assigned as Assistant at St. Bernadette Parish in Milwaukee. Father was appointed Curate at St. Anthony Parish in Milwaukee on June 27, 1967. On June 18, 1968, he was appointed Curate at St. Mary Parish in Burlington.
On August 4, 1974, he was granted a decree returning him to the lay state and dispensing him from the obligations of Holy Orders. For the next 18 years, he worked in the field of social work, mostly with troubled youth. On July 7, 1994, through a formal reinstatement he returned to active ministry. Father was assigned to Holy Angels Parish in West Bend as Associate Pastor. He was appointed Pastor at St. Anthony Parish in Menomonee Falls on September 1, 2000. He retired from active ministry on January 31, 2008.
Father Jerry is survived by his nephews, Mark (Cory Wiegerling) Repenshek of Cedarburg, John (Dana) Repenshek of Sheboygan; 2 great-nieces, Camory and Leah and great-nephew Jakob.
Father Jerry is preceded in death by his parents and his brother, Wayne (Mary Ann) Frances Repenshek.
A Mass of Christian Burial will be at 11 a.m. on Thursday, January 5, 2023 at Holy Angels Catholic Church (138 N 8th Ave. West Bend, WI 53095) with Rev. Howard Haase and Archbishop Jerome Listecki presiding.
Visitation will be prior at church on Thursday, January 5t from 9:30 a.m. until 10:45 a.m. Private Family Interment at Greendale Cemetery in Sheboygan.
In lieu of flowers, memorials are appreciated to the Priest Pension Fund.
A special thank you to the staff at The Kathy Hospice, who honored the dignity of our uncle's life through every moment of care.