West Bend, WI – Roger G. Schmidt, 80, of West Bend, WI, passed away Friday, September 1, 2022, at Kathy Hospice. Roger was born in West Bend, Wisconsin on September 21, 1941, to Alfred Schmidt and Margaret (nee Stauske) Schmidt. Roger married Jean M. Summers on May 11, 1963, in Fond du Lac, Wisconsin.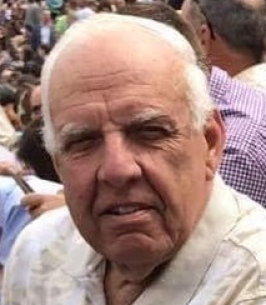 Roger was born and raised in the Town of Jackson, West Bend, Wisconsin. He graduated from West Bend High, class of 1959, and completed Automotive Technician and Air Conditioning Certification programs. Roger was an employee of West Bend Motors, Geiger Ford, and local Ford dealerships until becoming self-employed July 1, 1974.
Roger grew up on a farm in the Town of Jackson, Wisconsin. His father died when he was 12 years old, and his only sibling was killed when Roger was 15. He worked the farm fields until he and his mother moved to West Bend when he was in high school.
Roger and Marty Laufer from the Artistic Roller Rink bonded because they both had lost their brothers. Roger became floor manager at the roller rink while working full-time at the West Bend Motor Company after graduation. He had worked part-time at the dealership starting in 1957. The West Bend Motor Company was located where the present Tennies Hardware parking lot is located. He worked for the local Ford dealerships until June 1974, at which time he bought the local radiator shop from Gerhard Biertzer and founded Roger's Radiator July 1, 1974.
In July 1970 Roger founded Roger's Auto Clean, working part-time while still working full-time at the Ford Dealership. When the Auto Clean was started, he left the roller rink job, which was where he met Jean. Jean came from Fond du Lac to West Bend on the train to take dance skating lessons. They were married for over 59 years, always at Roger's side through their businesses.
Roger operated the Auto Clean along in the radiator shop but quickly outgrew space. The Auto Clean was started in one stall located at Jerry's Super Service which was located where West Bend Savings Bank is now located. Roger's Radiator was started in a 1 and a half stall shop attached to Kuhn's Liquor Store on N. Main St. across from the old brewery which was torn down this year.
In January 1978 we opened Roger's Radiator Service in our new building at 1645 N. Main St. We sold the business to our son Todd in 1996, now doing business as Roger's Automotive Service Inc. Roger worked for Todd, went part-time in his later years, and repaired his last radiators at 78 years old in November of 2019.
Roger started to get ahead in life with the help of some mentors, like Ollie Lochen, Charlie Geiger, Tom Sullivan, Norbert (Coley) Griffin, Irving (Bud) Behnke, and Jim Kieckhafer. They gave him the faith, love, and encouragement to match the ambition he had to succeed in life. Elvis Presley says it best in the Gospel song "I Did it My Way." Jean would appreciate written memories to share with family as we remember his legacy.
Roger enjoyed FFA, bird watching, nature, gardening, woodworking, Folk Art Creativity, being a Ranger Leader, a mentor, grounds helper at St. John's Church and Faith Haven, St. John's School Auction helper and donations, working at German Fest, and Washington County Fairgrounds as a volunteer, Ever Ready Homemaker donations, a St. John's Apple Kuchen helper, Washington County Humane Society fund raiser and donator of items, and Vice President Commons of Ridgeway Condo Association.
Roger was an active member of St. John's Church West Bend. He was Baptized and elementary educated at Trinity Evangelical Lutheran Church, Pleasant Valley Rd, Town of Jackson, Wisconsin, and graduated West Bend High School.
Survived by his wife Jean (nee Summers) Schmidt of 59 plus years, children Todd (JoAnn) Schmidt and David Schmidt. Grandchildren Stephanie (Zach) Barboza, Courtney Schmidt, Megan (Mark) Gildner, and Nina Schmidt. Great Grandson Oliver Barboza. Sisters-in-law Bonnie (Ed) Gruen, Cheryl (John) Summers, and Barbara (Neil) Summers. Further survived by cousins, other relatives, and friends.
Preceded in death by his father Alfred Schmidt, mother Margaret (nee Stauske) Schmidt, and his brother Frederick Schmidt.
A visitation will be held on Friday, September 23, 2022, from 1 p.m. until 3:45 p.m. with the Funeral Service at 4 p.m., at St. John's Lutheran Church, 809 S. 6th Ave., West Bend, WI.
In appreciation and celebration for your long-time support of Roger and his family's business, please join the family after the Funeral Service at the Kewaskum Town Hall, 204 First St. Kewaskum, for a Pig Roast in his honor.
Internment of Cremains will take place Saturday, September 24, at 10 a.m., at Trinity Lutheran Cemetery in the Town of Jackson. Memorials are appreciated to St. John's Lutheran Church, 809 Sixth Ave, West Bend, WI 53095, and Trinity Evangelical Lutheran Church, 1268 Pleasant Valley Rd., West Bend, WI 53095
A special thank you to ICU staff at St. Joseph's Hospital, Dr. Jeffery Smale, Jacci Gwen and many other doctors and staff in ICU as well as overnight stay at Kathy Hospice. Pastors at St. John's Church, David Nieman, Jeff Hesse, Stephen Reynolds, and Craig Bruskiewicz.