Obituary | Warren Paul Luedtke, 96, of Hartford
October 13, 2019 – Hartford, WI – Warren Paul Luedtke passed away quietly on Saturday, October 12, 2019 at the age of 96. The longer you knew him, the more you realized how remarkable a man he was, how remarkable a servant, how devoted to his family, how loyal to his friends, how faithful to God, and how available he was to anyone who just wanted to sit and talk a bit. For those of us who witnessed his passing, it was a testimony to a quiet guy, like so many WWII veterans, who just wanted to live out his life as best he could. Anyone who knew Warren knew "He's was a good man who humbly did good things in a good way." Warren never looked for praise or even thanks for that matter. He was heard telling his friends just days before passing that "This dying thing is a lot of work." He put his mind to it though and made it work. He reached his goal of dying well. He put in the work. Good men do that. Heaven was his goal and he made it.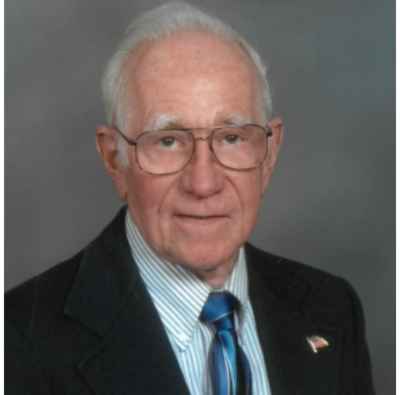 Warren was born in Milwaukee, WI on May 9, 1923 to Lydia nee Karrer and Orlando Luedtke. When his dad passed away 10 years later, Warren stepped into the role of Lydia's right hand, and older brother and protector for siblings Howard and Lois. He put his mind to it. It worked. He went to war in 1942. Serving on the USS Pensacola as a Seaman First Class, he saw action at Okinawa and Iwo Jima. He came back home at war's end to take his now military-forged work ethic back into civilian life. Good men do that. He took a job at Cutler Hammer Company in Milwaukee as an electrical circuit tester in 1953 and made it work for over 30 years, retiring in 1985. During that time he also performed troubleshooting work for the company nationally. Warren will also be remembered not only for his skilled circuitry work but also for his carpentry skills as well. He leaves behind many Skilsaw works of art, including exquisite cabinetry work and furniture.
Warren met and married the love of his life, Julie, in November 1962. For over 40 years of courtship and marriage, Warren was nothing less than a servant husband, devoted to Julie and stepdaughter Karen in every way he could be. Karen and her husband Ron were with him when he passed and he put the "dying thing" behind him for eternity.
Warren followed Jesus as best he knew how, and was absolutely devoted to his Christian faith. It's also true, he wasn't the perfect son, husband, father, uncle and friend. He'd be the first to tell you that. His own imperfections bothered him at times, especially when he forgot names, dates and telephone numbers. But still he modeled what it means to keep on trying to change and grow, even into old age when the living thing gets so mixed up with the dying thing.
Warren was granted a good death; the greatest gift he could have asked for. His family has benefited in both his life and now his passing. He did all things well in Christ…both the living and the dying.
Warren is survived by daughter, Karen (Ron) Eshman; sister, Lois Brunner; sister-in-law, Mary Ann Luedtke; also survived by nieces, nephews, other relatives and friends. Warren was preceded in death by his parents; wife, Julie; brother, Howard Luedtke; and brother-in-law, Cliff Brunner.
Funeral Services for Warren will be held at Peace Lutheran Church, 1001 Center St., Hartford on Wednesday, October 16 at 6:00 p.m. with Rev. Aaron Steinbrenner officiating. Visitation for family and friends from 4:00 p.m. until time of service. Committal at Pleasant Hill Cemetery, Hartford on Thursday, October 17 at 10:00 a.m. followed by military honors. In lieu of flowers, memorials are appreciated to Peace Lutheran Church and School.