'Of Mice and Men' Returns to West Bend Stage at UW-Washington County | By Paul Steinbach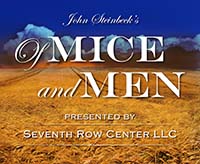 July 16, 2018 – Washington Co., WI – John Steinbeck's American literary classic "Of Mice and Men" returns to the UW-Washington County stage in West Bend for six performances, Aug. 10-19.
Set in Depression-era northern California, one of the most popular and controversial plays of all time tells the tale of two migrant workers with dreams of escaping their dead-end existence of ranch bosses and grain bags in favor of a place of their own. But trouble seems to follow the pair — Lennie Small, a mentally challenged man-child who doesn't realize his own strength, and George Milton, his reluctant travel companion who must constantly contrive to keep them both employed.
Three days on one particular barley ranch test the boundaries of their relationship — to one another and to this small world they briefly inhabit.
"It's beautifully crafted literature touching on so many societal themes that remain — unfortunately, in many cases — timeless and certainly relevant today," said Paul Steinbach, who first produced and directed "Of Mice and Men" for UWWC's 2016-17 Fine Arts Series. "Classism, sexism, racism, friendship and isolation — they're all exposed through Steinbeck's use of raw language and blunt interactions between characters."
A cast of 10 includes Steinbach as George and Nicholas Callan Haubner as Lennie, a role that earned Haubner 2017 BroadwayWorld Milwaukee Best Actor honors, as well as a 2018 Footlights People's Choice Award nomination for Outstanding Lead Performer In a Play. Marvin Bynum (Crooks), Jake Cox (Curley), Peter Gibeau (Slim), Melf Gourlie (Candy), Susan Martin (Curley's Wife), Simon McGhee (Whit), Scott Pollnow (The Boss) and Tom Stodola (Carlson) complete the ensemble.
"Nine of the original 10 are back to tell this story that, honestly, we've all grown to appreciate even more with each retelling," said Steinbach, adding that Martin is the lone newcomer to this year's production — staged by Seventh Row Center LLC through a special partnership with Musical Masquers Inc. "The revival's six performance dates will give a much broader audience the chance to experience this great piece of literature live in the intimate Theatre on the Hill space. The play is both heartwarming and heartbreaking. We're really looking forward to revisiting it."
Tickets are $18 and available at musicalmasquers.org/tickets or in person at State Farm Insurance, 410 Hawthorn Drive, West Bend, as well as one hour before show times at the theater box office, 400 University Drive, West Bend.