#OptOutside Black Friday, Nov. 24 Hike at Pike Lake Unit | By Lisa DeLaney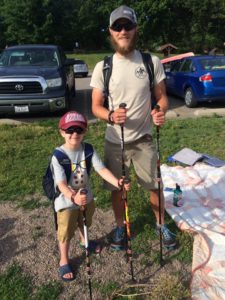 Nov. 23, 2017 – Washington Co., WI – Need to wear off your Thanksgiving turkey and stuffing? Prefer the outdoors to shopping malls?
Join the Ice Age Trail Alliance Washington/Ozaukee County Chapter on Friday, Nov. 24 at 10 a.m. – 12:00 noon, as they explore the hiking trails of the Pike Lake Unit of the Kettle Moraine State Forest. Hunting is not allowed in the park, so safety will not be a concern.
Two hikes will be offered.  A 4.6-mile looped hike and a shorter 2-mile option. Everyone is welcome.
A bonfire in the parks new amphitheater will follow the hike.  Stay for marshmallows and learn more about the Ice Age National Scenic Trail.
Pike Lake Unit is located on Hwy 60 in Hartford.  Watch for yellow "Ice Age Trail Event" signs leading you on Kettle Moraine Dr. to the parks beach parking lot.
A Wisconsin State Park sticker is required.
Dogs are not permitted in the park. Wear comfortable hiking boots and dress for the weather.
Bring your own water and don't forget your camera.
INFORMATION ABOUT THE AREA: The Pike Lake Unit is 446 acres and most of the segment follows the edge of a glacial ridge through heavily forested maple and beech woods. Pike Lake is a spring-fed kettle with a very popular sandy beach; the segment reaches the swimming area parking lot 0.5 miles after first entering the unit.
The segment crosses Kettle Moraine Road and makes its way uphill for 0.9 miles to an intersection with a spur trail. The spur climbs 0.2 miles to the top of 1,350-foot Powder Hill, one of the larger kames in the area. The lookout tower on top offers spectacular 360-degree views.