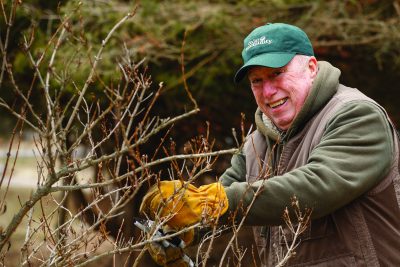 West Bend, WI – Making a move to Cedar Community's independent apartments or homes doesn't mean you have to give up the things you love about owning your own home.
One hobby many residents still enjoy is gardening. Residents at Cedar Community's independent living apartments enjoy 10'x20' garden plots, available free of charge. There are 60 plots, 58 are for residents and two are used as community gardens for everyone to enjoy, one with a strawberry patch and the other with raspberries. The gardens came to fruition from a suggestion of a resident when the apartments were built in 1986. More garden spaces were added in the late 80s. When the deer started to reap the benefits of the harvest, a tall fence was erected.
Residents are responsible for tilling, weeding, watering and maintaining their own garden space. A tiller is available for use as well as shared garden tools and equipment in the garden shed. If help is needed with the tilling someone is always willing to help. Water and garden hoses are also readily available for everyone to share.
Mary Stodola has lived at Cedar Community for 11 years. "When I married Bob it was part of our marriage agreement to move to Cedar Community's independent apartments," says Mary jokingly. It was a second marriage for both and Bob always knew he wanted to live at Cedar Community. Four years after they were married they made the move. Bob grew up on a farm and they always had a garden at their home he enjoyed. The Stodolas started out with half a plot before committing to a whole one just to make sure it was still something they wanted to do in retirement.
The garden was a fun thing to do for the Stodolas, "Bob knew everything about gardening. I should have paid more attention, especially after Bob passed away," says Mary. Each year, she typically plants tomatoes, sugar snap peas, herbs and flowers around the edges. She also has raspberries and rhubarb which come back each year. During growing season, Mary can be found in the garden a couple of hours each day. She also helps with plantings on the grounds.
Click HERE to read the rest of the story.