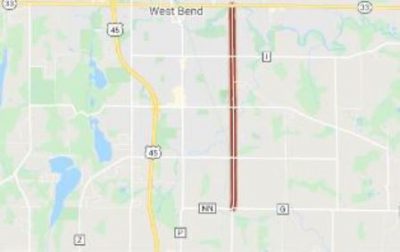 August 13, 2020 – West Bend, WI – The repainting of pavement markings along River Road, from Washington Street to CTH "NN" is started today, Thursday, August 13, 2020 with an anticipated completion date of August 15, 2020, weather permitting. The contractor for the repainting of the pavement markings is Brickline, Inc. from Madison, Wisconsin.
The work started after the morning rush hour this morning, approximately 8:00 AM. Some of the work may be done during evening/night time hours, especially near the roundabout at Paradise Drive and River Road.
During construction operations, traffic may be limited to one lane and will be regulated by flaggers. Motorists are reminded to abide by traffic control signs and devices, as well as obey flaggers, and be aware of ongoing construction activities. Alternate routes should be planned to avoid construction whenever possible.
If you have any questions about this news release, please contact the Engineering Department at 262-335-5130.