August 31, 2019 – West Bend, WI – Pizza Ranch in West Bend officially opened in May 2018 and over the past year and a half the locally-owned franchise has been giving back to local churches and organizations with an in-house fundraiser, Community Impact Night.
"We just started these fundraising events at Pizza Ranch West Bend location this year," said Pizza Ranch owner Stacy Gehring. "Our Community Impact Nights are a great way to raise awareness and money for any non-profit organization."
According to Gehring, Community Impact Nights are normally on Monday nights at the store on Highway 33.
Volunteers from a specific organization spend about four hours busing tables, talking to customers and end-of-shift cleaning on the night of their event.
In return Pizza Ranch of West Bend donates 10 percent of all dine-in and pick-up net sales to the non-profit organization volunteering that evening. In addition the non-profit will keep all donations generated that evening from dine-in and carry-out guests.
Interfaith Caregivers of Washington County took part in a Community Impact Night at Pizza Ranch in February 2019. The local non-profit walked away with a check for $618.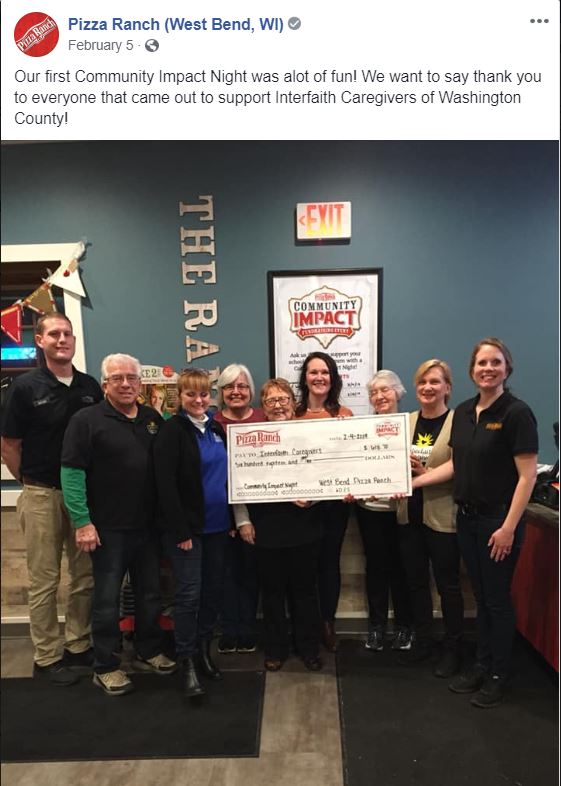 If you know a non-profit organization interested in signing up for Community Impact Night at the Pizza Ranch in West Bend, please click HERE to fill out an inquiry and get an application.