Pregnant woman and friend injured in freak accident at Holy Hill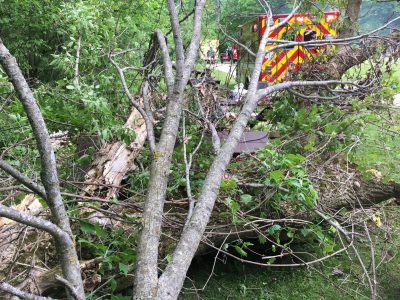 May 30, 2018 – Town of Erin, WI – On Sunday, May 27 at 3:08 p.m. two subjects were injured when a branch, about 20-feet long, fell onto two picnic tables on the Holy Hill Basilica grounds.
The branch struck a 29-year-old pregnant female from Chicago in the back.
It also struck a 55-year-old Chicago woman who was knocked to the ground unconscious.
Both subjects were transported to Community Memorial Hospital in Menomonee Falls.
The 55-year-old woman suffered several broken ribs, fractures to her disks in her back and a possible brain bleed.