West Bend, WI – The  Columbian has reopened to the public and offering pressure-cooked or baked chicken dinner on Saturday, along with the fish fry on Friday's.
The Columbian will be offering a pressure-cooked or baked four-piece chicken dinner, which includes mashed potatoes, coleslaw and garlic bread for $8 every Saturday in June.
Dine in or carry out.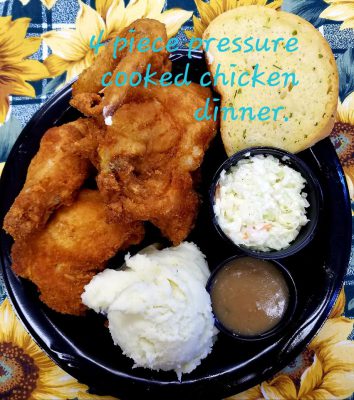 The Columbian will be offering 4 piece baked chicken, with mashed potatoes and gravy, coleslaw and garlic bread and The Columbian will continue to offer 4 piece pressure-cooked chicken for $8.
Bryan can only make 108 meals of the pressure-cooked chicken. We do not want our fried chicken to sit in a oven and stay warm, we want our customers to have hot and fresh chicken.
You must call in for reservations for both carry out and dine in of the Baked Chicken and Pressure Cooked Chicken. Call 262 334-9849
Dine in will be 50% of our capacity.  The well-being of our customers and our employees is top priority.
With this in mind, we will practice social distancing, frequent disinfecting and cleaning of customer contact surfaces and our staff will be wearing face protection and gloves.
The bar will be open.
Service hours will be 4:30 p.m. – 7:30 p.m.  Carry outs or dine-in reservations can be made, but not necessary, by calling 262-334-9849.