Public hearing on special assessment for 18th Avenue slated for March 2 at West Bend City Hall
March 1, 2020 – West Bend, WI – There's going to be a public hearing on March 2 at 6:30 p.m. in the council chambers at West Bend City Hall. The special assessment is tied to the reconstruction of 18th Avenue between Vogt Drive and Decorah Road.
"The way the assessments are calculated are based on the frontage of the lot," said City Engineer Max Maréchal. "We've established the cost of lineal foot of project and we multiply that by the frontage of each property. If your frontage is smaller than you will get a smaller assessment."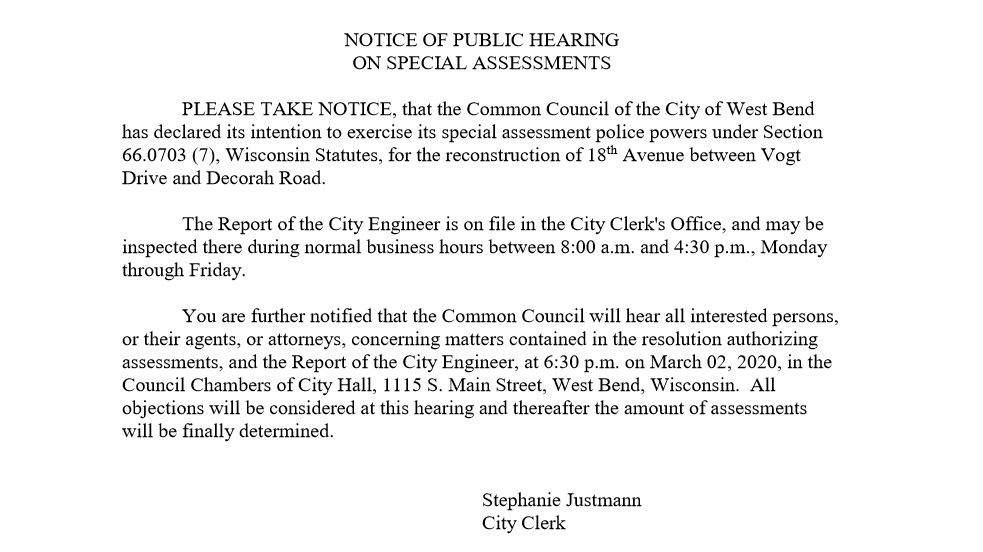 According to preliminary numbers the total for the special assessment varies from $1,757.14 to $5,449.47 to over $16,000. That last increase is for an address that houses a non-profit organization on 18th Avenue.
"That will be up to the common council to address," said Marechal. "This is what the public hearing is for so aspects can be addressed between the public and the council."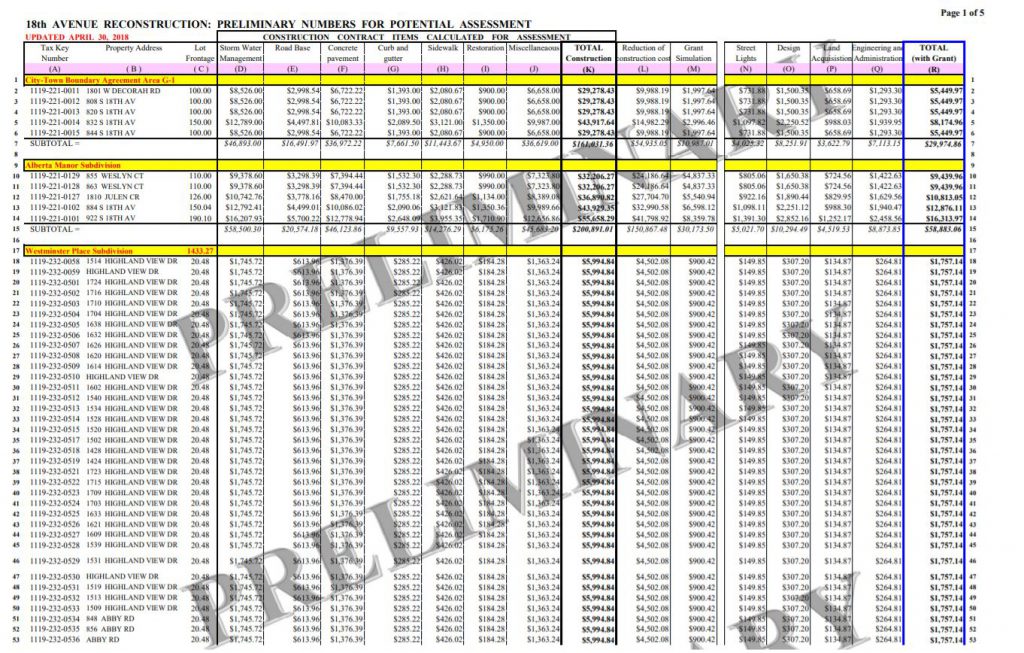 The special assessment, overall, is based on an existing policy. "When there are new improvements the property that benefits directly the government entity has power to assess for the cost of installing those new improvements," said Marechal.
Improvements on the 18th Avenue project include curb and gutter, street lights, sidewalk, etc. About 85 properties are included in the special assessment.
Neighbors on 18th Avenue and Decorah Road question, if the entire community is using the streets and sidewalks, then why are only the property owners in that area charged with a special assessment to cover the cost of improvements?
Marechal went back to his statement of "property that benefits directly" from the work. "Direct benefit to the property," he said. "Are there properties immediately adjacent that will benefit."
Click HERE for more of an explanation.
Marechal said his office is receiving phone calls. "Most of the people understand what's going on but we're also open to answering any other inquiries," he said.
The reconstruction project on 18th Avenue between Vogt Drive and Decorah Road was completed in October 2018. 
The entire first portion of the project was less than a mile in length. There's a second phase of the project waiting in the wings which will run from Vogt Drive south to Paradise Drive.
"Obviously we will follow the same process as the first phase," said Marechal. "Which means we will go to the City common council and ask them whether they intend to assess for new improvements; will that directly benefit those properties or not and we'll go from there."