November 18, 2021 – West Bend, Wi – Washington County District 5 Supervisor Randy Marquardt will not seek reelection this spring 2022.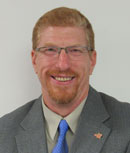 "When I saw the districts come out, I was waiting to see if I was going to be in with somebody else," said Marquardt about the redistricting in Washington County.  "I really don't need another job and I'm kind of looking to get rid of a hat."
Marquardt also serves as Chairman of the Washington County Republican Party.
Click HERE to look at the redistricting map in Washington County
It was November 2019 when Marquardt threw his hat in the right as county supervisor. He made a run for the seat in District 5 as incumbent supervisor Mike Bassill filed non-candidacy.
With the redistricting Washington County will trim five supervisory seats and cut its number of representatives from 26 to 21.
Marquardt said with the redistricting he would have been challenging Dist. 3 supervisor Chris Bossart.
Within the past two years Marquardt felt his biggest accomplishments on the county board included solving the problem concerning the future of the Samaritan Home.
"We voted this month to apply for a grant of $12 million which would be 40% of the total cost of rebuilding a smaller facility," he said. "The grant would cover a big chunk of a new build and the rest would come from income generated by the facility."
Marquardt did not think the new facility would be built on the current site.
He said the plan would be for a 50 bed facility. "That keeps us under the government spending incentive and you get a little more money in reimbursements if you're a small facility," he said.  "I think this is one of the responsibilities of county government even though it's not something we have to do by statute."
Marquardt expects to file his non-candidacy papers around Christmas.
County Board Chairman Don Kriefall will also not run again.
Candidates can begin circulating papers December 1, 2021.
The spring election is April 5, 2022. If a primary is necessary, that will be held Tuesday, February 15, 2022.