September 23, 2019 – Germantown, WI – Hat tip to Jodi Janisse-Kanzenbach and her team at Precinct Tap & Table in Germantown as they received a stellar review from food critic and senior writer Lori Fredrich at onmilwaukee.com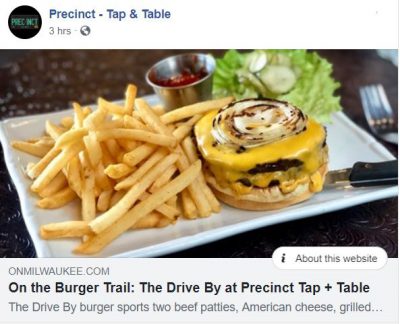 A portion of Fredrich's review is posted below:

Nearly two years ago, I reviewed the Overstuffed Wisconsinite burger at Cafe Soeurette, Kanzenbach's former restaurant in West Bend … and it was impressive. A renamed version of that burger is also on Precinct's menu (it's now called The Wisco Burger). But I was eager to try a brand new option: The Drive By.

The Drive By features two beef patties, "fancy" sauce, grilled onion, American cheese, lettuce and pickles on a split top bun with a side of French fries ($13).

Presentation: 9

This burger is a cutie. It's served open-faced on a rectangular plate, so you can see all the melty American cheese oozing down the sides of the double beef patties. They're topped with a beautifully dappled grilled onion. Meanwhile, the top bun sits to the side, augmented with a frill of green farm-fresh lettuce and razor thin bread and butter pickles.

Bread/bun: 10

The bun is a well-appointed choice. It's soft and nicely flavored. A bit sweet and pleasantly yeasty, it was nicely sized and just sturdy enough to do its job holding things together. As for execution, it was beautifully buttered and toasted, giving it great texture and a nice light crispness. And – in the end – held up to the juicy burger like a champ.

Burger: 9

The burger patties themselves were slightly thicker than expected, likely weighing in at about a quarter-pound each. They were nicely grilled, with the meat coming in right around medium or slightly over. The beef was neatly, but deftly packed, giving the burger a tender, juicy texture. And the flavor was just right: meaty, beefy and just seasoned enough to bring out its assets.

I was pleased with the ….
To read the rest of the review log onto onmilwaukee.com
Click HERE for more details on Precinct – Tap & Table.
Photo courtesy Precinct – Tap & Table and onmilwaukee.com