April 30, 2021 – West Bend, WI – "I've got about seven machines that weigh between 700 and 1,000 I'll have to move," said Ray Carlson, owner of Ray's Shoe Repair.
After 33 years in business at 459 N. Main Street, the cobbler is being forced to close up shop and move. The locally-owned business is one of a handful located in the old West Bend brewery that will be demolished in the coming months to make way for apartments.
Carlson moved into the old brewery office following Charles Reetz who had the upholstery shop, Tac Kraft Upholstery.
"This was the main office of the brewery," said Carlson. "This is where everybody came to pick up their paycheck and I think they got a glass of beer."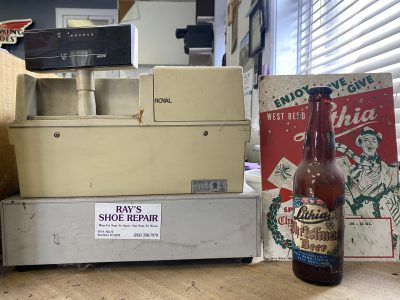 Several remnants from the days of the brewery are visible on the walls and near the cash register including a dusty brown bottle of Lithia Christmas brew, an Old Timer's Lager cardboard poster, and a framed picture of the last supper.
The transom over the door to the storage room in back is original to the building as is the decorative wood trim around the closet doors.
Carlson is dressed in a bright yellow shirt covered by a white apron muddied with shoe polish and soil from the soles he has deftly mended. His office space looks like a workshop found in a man cave complete with shelves full of oils and stains, tall spools of thread and drawers and cabinets full of pieces of whatnot saved to use one day.
The machinery at Ray's is sturdy and heavy like an anvil… or 10. There are stitchers and the famous Heel Wheel. Tools of the trade that have probably seen better days, but refuse to quit; kinda like their owner.
"I plan to move a little at a time over the next three weeks," he said. "The stitchers are 700 pounds. My dad bought a shoe repair when I was in fourth grade in Hartford and I kind of just picked everything up from him."
Near the entrance to Carlson's sewing room is a framed black-and-white drawing titled West Bend Brewing Company's Plant. "This picture shows how this area used to look," he said pointing to the location of his little shop tucked between the industrial brick of 3-story brewery.  Smoke pours from the tall chimneys in the picture as men and horses tackle rolling wooden beer barrels. A locomotive spews a trail of black smoke.
"You can see the same windows from my shop right here and the same doorway. This stuff across the street I don't know where it went but this is all still here.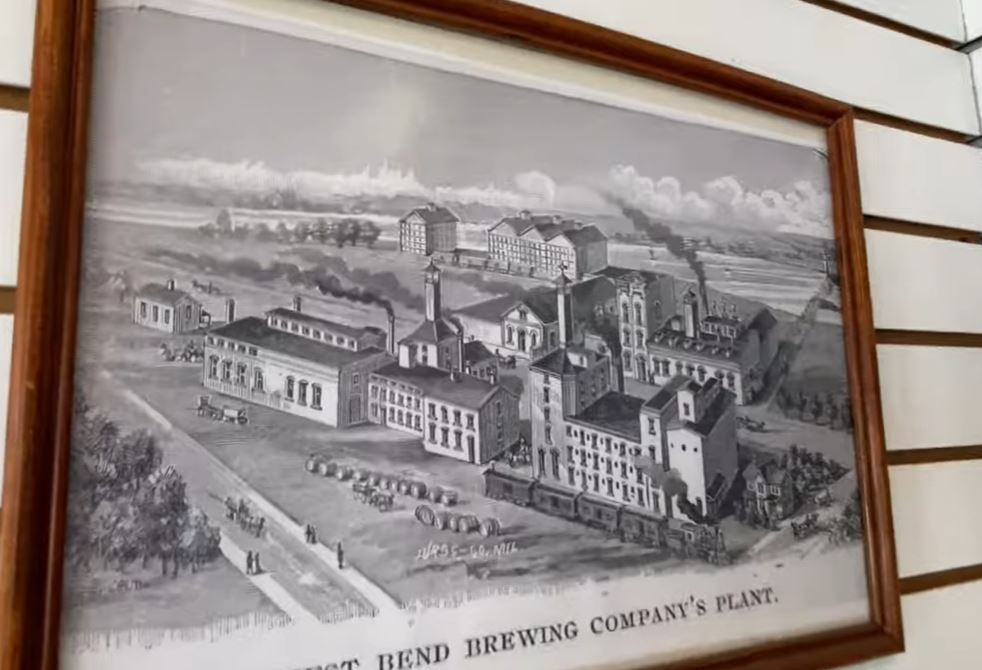 The shopkeepers bell clangs as a customer enters the store. "Howdy," said Carlson.
"The zipper isn't broken," said the customer. "if you can just sew it back in."
The transaction has an old-school ease to it. No name, no ticket, no estimate on the price.
"It'll be ready Wednesday," said Carlson.
Over the next few week the contents of the store will be moved. Carlson is headed cross town to 827 S. Main Street in the Decorah Shopping Center; round the corner from Jeff's Spirits on Main.
"I've just worked to make everyone happy…," said Carlson. "Fixing all their stuff. Fixing what they would normally throw away."
On a side note: If you have a chance to lend a hand and help Ray move or take down his sign … that would be much appreciated. Old-school neighborly helpful… as the locally-owned shopkeeper tries to relocate without missing a beat.