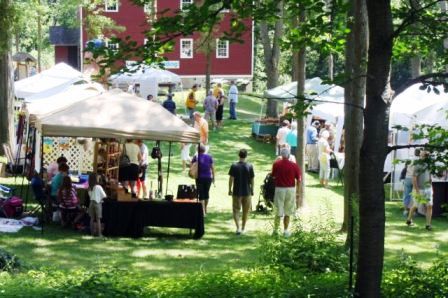 July 22, 2017 – Richfield, WI – The Richfield Historical Society is hosting its 9th annual Richfield Art at the Mill on Saturday, July 22, 2017, 9 am to 4 pm, at the Richfield Nature/Historical Park located at 1896 State Rd 164.  Richfield Art at the Mill is a free admission and parking event featuring art, fine crafts, food & beverages and entertainment.   We offer wagon rides to take you to the exhibit area and back to your car. 
Shop the more-than-60 arts and crafts booths featuring photography, painting, pottery, wood working, textiles, basketry, glass and metal works and much more.  Browse our specialty vendors for herbs, nuts, candy and natural lotions, jams/jelly, flavored butter, homemade pet treats.  You won't want to miss our Silent Auction featuring items from many of the artists and specialty vendors.
New for 2017 – Breakfast and lunch concessions provided by LaCabana Mexican Grill in Hubertus.
Visit our concession stand for a bite to eat while you enjoy entertainment from  ­­­­­­­­­­­­­talented guitar players Cheryl Kuhaupt and Nancy Landry  (10-11 am) and the well-known Eric Schoor Trio (noon-3 pm).
Richfield Historical Society volunteers will be conducting guided tours of the  Messer/Mayer Mill and Mill House. Tours run from 10 am – 4 pm, and are $5 for adults, $3 for children  6 – 12,  and children under 6 are free.   You won't want to miss the Lillicrapp Welcome  Center with its old-time general store and a display of early 1900's Richfield photography.
Funds raised at Richfield Art at the Mill and our other events support the Society's educational programs and maintenance of the Richfield Historical Park.  For more information and a sneak preview of the artists' work, visit our website www.richfieldhistoricalsociety.org.