May 3, 2021 – West Bend, WI – Robert "Bobby" Leo Flasch, 84, passed away on Saturday, May 1, 2021 at The Kathy Hospice in West Bend. Bobby was born on November 10, 1936 in West Bend, WI to Kilian and Gertrude (Nee Becker) Flasch.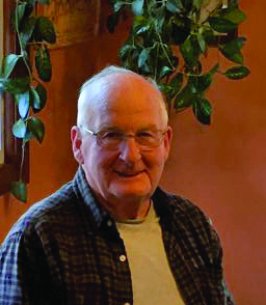 A lifelong resident of West Bend, Bobby was the youngest of 11 children. He grew up on Wallace Lake Road where he built his house next door to his parents on the family farm. On January 31, 1959 "the coldest day of the year" he married his sweetheart, Janet, at Saint Mary's church in Barton.
As a young man, Bobby was employed at the Barton Roller Mill, and he had many stories about those days. He moved on to work with his brother, Gregor, who mentored him in the flooring and tiling business. After the passing of his brother, he started Bob's Flooring and Tiling and worked in many homes in the West Bend area.
Bobby and Janet enjoyed their retirement, spending time traveling with friends and family. A lifetime motorcycle enthusiast, Bob loved riding his Harley-Davidson until he turned 80 years old. He could name a make, model and year on any car built before 1960. Sunday afternoons were "race day" as Bob was a huge NASCAR fan. An avid gardener, Bob had a bountiful vegetable garden and shared his produce with family, neighbors, friends and food pantries. Springtime would find him on his Allis Chalmers tilling his garden. Year round he relished his time walking through Sandy Knoll Park with his four-legged buddy, Oliver.
Bobby is survived by his daughters Pamela Flasch, Sandra (Dennis) Anderson, Susan (Russ) Krueger, Amy (Stan) Maertz, Janelle (Kamil) Maghsadi; grandchildren Michael (Kim Strupp) Anderson, Dustin (Ashley) Anderson, Robert, Maxwell and Braden Maertz, Karen (Peter) Graf, Kayla and Jarrett Mapes, Yasmin and Alexander Maghsadi; great-grandchildren Quintin, Leightin and Adalyse Graf, Killian and Kaiden Anderson; siblings-in-law Richard Slavik, Janine Stoffel, Nancy Nehrbass, Susan Lovero, Carol Nehrbass, Eileen Field, Joel Nehrbass (Linda), JulieAnn (Dave) Witte. He is further survived by nieces, nephews and other friends and relatives.
Bobby is preceded in death by his loving wife, Janet (nee Nehrbass), his parents, parents in-law Peter and Delores (née Weiss) Nehrbass, siblings John "Woody" (Florence, Sue), Roland (Marion), Wilmer (Adeline), Gregor (Grace), Leonard, Peter and Raymond Flasch, Clarisy (Leo) Lennartz, Paula (Frank Oresnik, John) Leitner, and Joan Slavik. In-laws James Nehrbass, Jerry Nehrbass, Richard Stoffel, and his beloved dog Oliver.

A Mass of Christian Burial will be at 11:00AM on Saturday, May 8, 2021 at St. Mary's Immaculate Conception Catholic Church (406 Jefferson St. West Bend, WI 53090) with Fr. Carlos Londono presiding. Visitation will be at church on Saturday, May 8th from 9:00AM until 10:45AM. Interment will be at New St. Mary Catholic Cemetery at a later date.
Memorials are appreciated to Saint Mary's Immaculate Conception Catholic Church.
A special thank you to the exceptional staff at The Kathy Hospice.