Rolfs nativity and West Bend featured in article in New York Times
Dec. 24, 2018 – West Bend, WI – West Bend and the Rolfs nativity is featured in an article in the New York Times.
Reporter Mitch Smith was in town Dec. 20 and met with Rev. Pat Heppe at Holy Angels, Rick Takacs at Meadowbrook Market and the Downtown West Bend Association.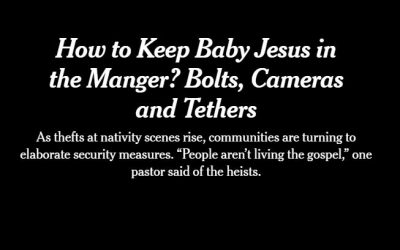 The focus of the article was about vandalism over the years and steps various communities are taking to keep their nativities safe. Below is a portion of the article.
In West Bend, Wis., north of Milwaukee, a baby Jesus figurine was stolen twice last year. After the first theft, the statue's torso was found nearby, but the rest of it was missing. The faithful were outraged, and someone donated a new Jesus doll for the Nativity set, which had been displayed around town for decades.

A few days later, early on Christmas Eve, an alert police officer saw a woman "cradling something" on West Bend's Main Street. It was the replacement baby Jesus. "I yelled 'Police, stop,'" the officer wrote in his official report of the incident. Once confronted, the woman dropped the figurine and took off running.
The thefts took a toll in West Bend, a city of about 30,000 residents, where churches are central to public life and longtime residents recall admiring the old Nativity set as children.
The article goes on to talk about the security steps being taken to prevent further theft. Click HERE to read the entire article.