Shop Downtown West Bend today at Spring Bling… a DIVA Thing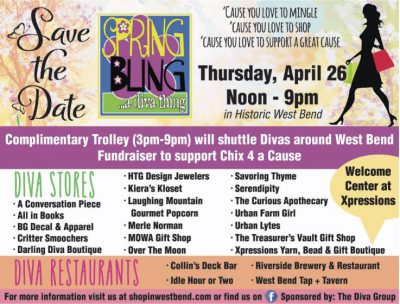 April 26, 2018 – West Bend, WI –  Spring Bling… A DIVA Thing is today in Downtown West Bend and Barton.
'Cause we love to mingle, 'cause we love to shop, 'cause we love to support a great CAUSE!  It's time to come out, welcome spring, and see what's new at your favorite shops!
Complimentary trolley service between the local shops and restaurants (3-9 pm).  Participating shops and restaurants will be offering specials.
The trolley will take ladies to 7 stops in West Bend and Barton.  The trolley will be continually rotating throughout the night.  The trolley designated parking area is Immanuel Church at 501 Walnut Street in West Bend.
Participants can start at their favorite shop and get on the trolley as it makes the rounds.  Route takes approximately 30 minutes.
Each store is doing its own special fundraiser to raise money for Chix 4 a Cause or donating $50.    The Spring Bling event will always have a "Charity" aspect to it.  We added the charity portion to the spring event because we as a group are a dynamic force that can make a difference!
There will be over 10 door prizes.  The door prize registration will be at the Welcome Center, at Xpressions Yarn, Bead & Gifts, 264 N. Main Street.