Slinger, WI – Attention Slinger Residents. There is an abundance of fire hydrants throughout the community that are inaccessible because of snow accumulation.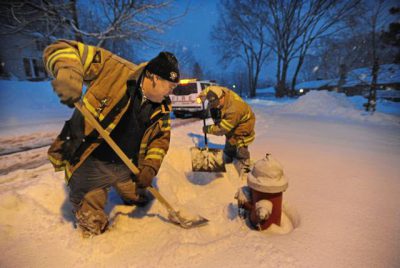 This can significantly delay the Fire Department securing a water source in a situation where it is needed therefore delaying and/or interrupting Fire Department Operations.
The Slinger Fire Department is reaching out and asking the youth of the community to adopt a fire hydrant for the winter.
If you have a child that is interested, contact us and an appointment can be set up for a firefighter to come and help your child with shoveling out their adopted hydrant, after which, the department will make periodic checks and if the hydrant accessibility is maintained throughout the winter.
At the end of the season your child will receive a thank you from the Fire Department in the form of a ride to school in a Fire Truck and picture with a Firefighter on the Slinger Fire Department Facebook Page.
Photo courtesy TribLIVE.com