Slinger wrestling is going to State! Solid win. By Melissa Kratz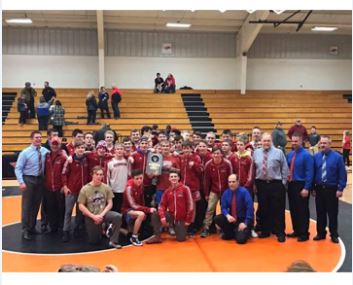 Feb. 14, 2017 – Hartford, WI – It was a sea of red at Hartford High School for the WIAA sectionals as the Slinger Owls beat Germantown 53 – 21 to advance to State.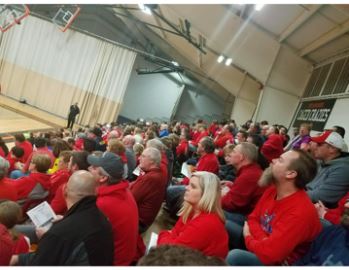 Scoring of the Slinger/Germantown Wrestling Sectionals.    By Ron Naab

At the Hartford Field House on Tuesday night, the Slinger Owls Wrestling Team took on the Germantown Warhawks.  Slinger is going to state with a decisive 53 to 21 win!  Following is the listing of the Slinger Owls decisive wins over their opponents from Germantown.
The Owl wrestlers lost only 4 weight classes against a very strong Germantown team.
The Slinger team will advance to the State WIAA Tournament the weekend of March 3 and 4.
106 Gavin Skinner win by pin.
113 Aaron Soneson win by pin.
120 Cameron Heeson win by decision 12-10.
126 Caleb Ziebell win by pin.
132 Chris Meilus lose by decision 9-3.
138 Hudson Mountjoy win by pin.
145 Jake Budnik loss by pin.
152 Adam Beine win by pin.
160 Jake Klinger lose by pin.
170 Logan Stegemeyer win by tech 26-8.
182 Caleb Kovacevich win by decision  9-4.
195 Bennett Connolly win by pin.
220 Nate Balistriere win by pin.
285 Casey Osterberg lose by pin.
Following is a recap of Tuesday night's Division 1 sectionals:
Division 1- 7 p.m.
Sectional-A at Stevens Point 
Hudson 36, Marshfield 33
Sectional-B at Pulaski 
Kaukauna 57, Pulaski 9
Sectional-C at Baraboo
Holmen 27, Sauk Prairie 24
Sectional-D at Hartford
Slinger 53, Germantown 21
Sectional-E  at Elkhorn
Stoughton 36, Elkhorn 25
Sectional-F at Mukwonago
Waterford 54, Wauwatosa West/East 19
Sectional-G at Pewaukee
Menomonee Falls 63, Nicolet 15
Sectional-H at Kenosha Bradford/Reuther
Oak Creek 49, Kenosha Bradford/Reuther 20