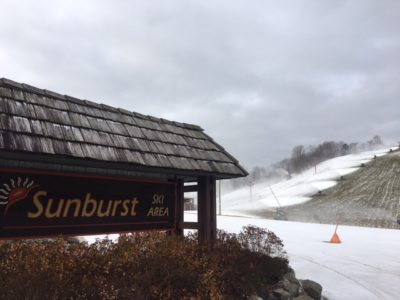 Nov. 21, 2016 – Slinger, WI – Temperatures were just right on Sunday to turn on the snow as Little Switzerland in Slinger and Sunburst in Kewaskum got a jump on the winter skiing season.
"We actually started making snow on Saturday night," said Rob Friedl, the owner of Sunburst Ski Area. "We should have the main run, Edelweiss open first. I'd like to be open by Thanksgiving but it's totally weather dependent."
Sunburst made snow throughout the night Sunday. Friedl said they were looking to build a base of 1 – 2 feet.
"We're really dependent on temperature," said Friedl. "The perfect situation would be 17 degrees with zero humidity."
The snow cannons were blasting full bore on Saturday and Sunday at Little Switzerland in Slinger.  The initial goal is to "bury the terrain park" at the hill.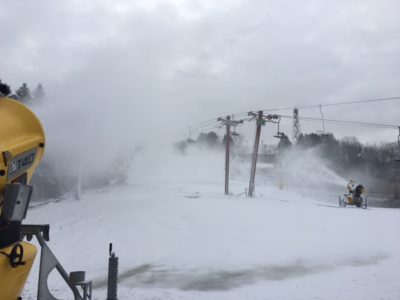 On a history note: Little Switzerland originally opened Dec. 7, 1941; it was the same day the Japanese bombed Pearl Harbor.