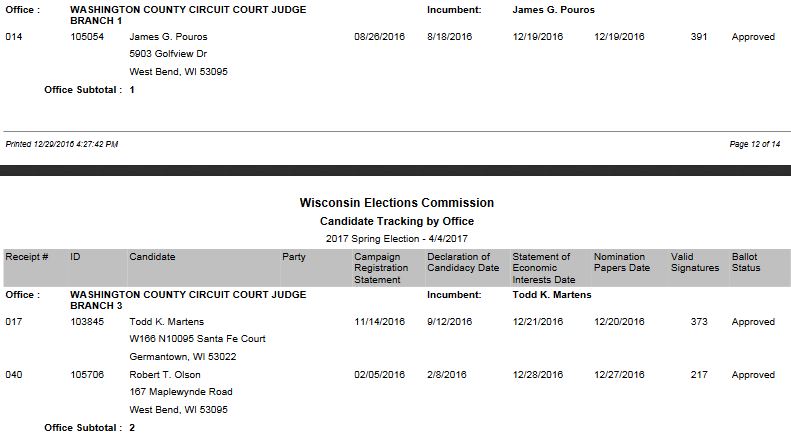 Dec. 30, 2016 – West Bend, WI – There will be a challenge in Washington Co. Circuit Court in Branch 3 as incumbent judge Todd Martens faces Robert T. Olson.  The judge's position is for a 6-year term.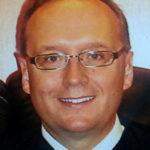 Martens, 54, was appointed by Gov. Thompson as District Attorney in Washington County in 1999. Martens ran unopposed 5 times until 2010 when Judge Dave Resheske retired. Martens received the gubernatorial appointment and then ran successfully the next year.
Robert Olson was born in West Bend, attended the University of Minnesota-Carlson School of Management and received a Bachelor's degree in Business with a major in Finance.  He has been a practicing attorney for 15 years and said he wants to "restore faith in our legal system one case at a time."
Elsewhere – signatures for the Spring election are due Tuesday, Jan. 3.
In West Bend aldermen up for election include Dist. 2 Steve Hutchins, Dist. 4 Chris Jenkins, Dist. 6 Steve Hoogester, and Dist. 8 Roger Kist.
As of Thursday, Dec. 29 – Kist had turned in his required signatures as had Chris Jenkins. Mayor Kraig Sadownikow also turned in his required signatures. Two others have taken out paperwork in Dist. 2 including Kevin Aubery and Elijah Jackson.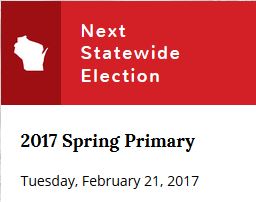 In Slinger, Village President Russell Brandt is up for election as are trustees Rick Gundrum, Richard Kohl, and Dean Otte. Each seat carries a 2-year term. All candidates must turn in 20 or more signatures by Jan. 3, 2017.
In Germantown, 4 of the 9 trustees are up for election including Dist. 1 David Balm, Dist. 2 Rick Miller, Dist. 3 Robert Warren, Dist. 4 Jeffrey Hughes.
In Kewaskum, Village President Kevin Scheunemann is up for reelection along with trustees Jim Wright, Jim Hovland and David Spenner.
In Hartford,  Dist. 1 alderman Robert Jewell is up for a 1-year term,   Dist. 1 Randy Meyer for a 3-year term, Dist. 2 Dennis Hegy for a 3-year term and Dist. 3 Barry Wintringer for a 3-year term.
In Richfield up for reelection are: Village President John Jeffords, and Trustees Rock Brandner and the seat previously held by Sandy Voss.  All terms are 2 years, and 20 signatures are required for each position.

There will be a primary Feb. 21 as four candidates are running for state school superintendent including:
Tony Evers – Incumbent
Jeff Holmes – Administrator, Germantown School District
Lowell Holtz – Former superintendent, Beloit School District
Remy Gomez – 2016 candidate for mayor of Tomah
Superintendent stats via ballotpedia.org