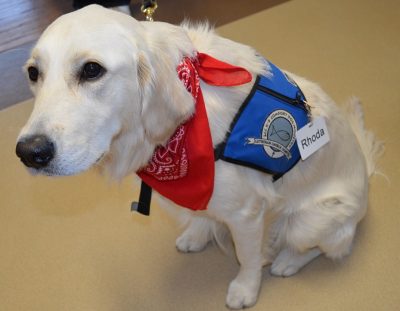 Sept. 28, 2017 – Town of Polk, WI –  Froedtert & the Medical College of Wisconsin St. Joseph's Hospital, 3200 Pleasant Valley Road, West Bend, has begun a Comfort Dog Program in which a trained dog provides comfort to hospital patients.
Coordinated by Volunteer Services and in partnership with the Lutheran Church of the Prince of Peace in Menomonee Falls, the comfort dog, Rhoda, visits patients and families at the hospital periodically. Rhoda is accompanied by one of five handlers, visiting the Kraemer Cancer Center alternating Monday and Wednesday afternoons, and the Medical/Surgical Unit and Modified Care Unit on Saturday mornings.
Before coming to West Bend, Rhoda completed over 2,000 hours of training with several different trainers to earn her designation as a certified comfort dog through the national Lutheran Church Charities K-9 Comfort Dog program. She has also been working at Froedtert & the Medical College of Wisconsin Community Memorial Hospital for the past year.
Rhoda, a two-year-old, female purebred golden retriever, interacts with a wide variety of people at churches, schools, hospitals, nursing homes, events and disaster response situations. While Rhoda primarily spends her time with local organizations, her main responsibility is providing comfort during disaster situations. As a result, she can be called away from her local schedule for those purposes at any time.
Benefits of comfort dogs specifically in health care include bringing a calming presence in stressful situations for patients and staff; offering comfort to patients or families suffering pain or loss; helping to relieve a patient's loneliness or depression; and stimulating minds while lifting spirits and bringing smiles to countless faces.
Froedtert & the Medical College of Wisconsin St. Joseph's Hospital, founded in 1930 by local doctors, community leaders and the Sisters of the Divine Savior, is a full-service hospital serving residents of West Bend and Washington County. St. Joseph's Hospital, specializing in women's health and birthing services, cancer care, surgical procedures and rehabilitation services, is part of the Froedtert & the Medical College of Wisconsin health care network, which also includes Froedtert Hospital, Milwaukee;Community Memorial Hospital, Menomonee Falls; and more than 30 primary and specialty care health centers and clinics.