West Bend, WI – On Saturday, Feb. 23, Stepping Out by the River: An Adult Prom will be held at the Museum of Wisconsin Art, 205 Veterans Avenue in West Bend, from 7 p.m. to 10 p.m.
The event will feature music from multiple decades, dancing, heavy hors d'oeuvres by Café Souerette, a cash bar, a vintage dress contest, and the crowning of prom king and prom queen.  Prom king and prom queen will be chosen at random from names submitted the night of the prom.
In addition, the Art Museum exhibits will be open to the Adult Prom patrons until 9 p.m.  This will be a fun event that you won't want to miss!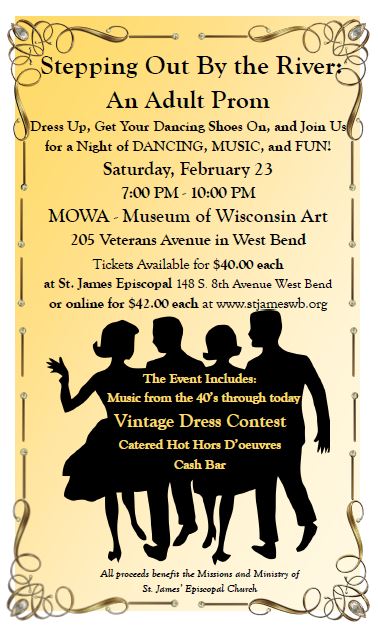 Tickets are available for $40 at the St. James Episcopal Church office or $42 online at www.stjameswb.org.
The church is located at 148 S. Eighth Ave, with the office accessible through the Ninth Avenue parking lot door.  The office is open Mondays and Thursdays from 10 a.m. to 2 p.m. and by appointment.
All proceeds from Stepping Out by the River: An Adult Prom will benefit the missions and ministries of St. James Episcopal Church, which includes the Harvest House community meal program.
Stepping Out by the River: An Adult Prom
Saturday, February 23, 2019
7:00 PM – 10:00 PM
Museum of Wisconsin Art (MOWA)
205 Veterans Avenue
West Bend, Wisconsin
Tickets are available online for $42 each at www.stjameswb.org