May 28, 2020 – West Bend, WI – Questions have now been resolved regarding a ghost bike that appeared a couple days ago on the Eisenbahn State Trail at the intersection of Highway 33 and Veterans Avenue in West Bend.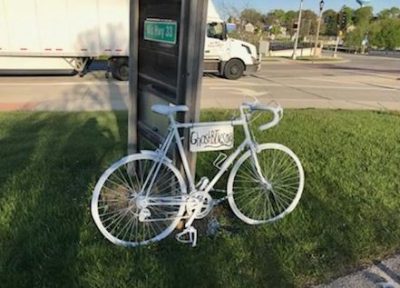 Ghost bikes, according to ghostbikes.org   are"reminders of the tragedy that took place on an otherwise anonymous street corner, and as quiet statements in support of cyclists' right to safe travel."
Below is the resolution on the ghost bike on the Eisenbahn Trail from the Washington County Parks & Trails
That is a ghost bike and according to John Lanser and Tim Troutt who set this ghost bike up, "The idea behind the ghost bike is to bring attention to an interaction between a pedestrian and a car. The Ride of Silence is a group ride that remembers the friends and family that may have lost their lives while biking, not necessarily as the result of a car but by any cause."

West Bend is very fortunate to have great people like John and Tim as well as an organization like Bike Friendly West Bend who support the safety of cyclist and pedestrians. Remember to take the time when driving to be aware of pedestrian crossings and be a safe driver for your safety and the safety of others.