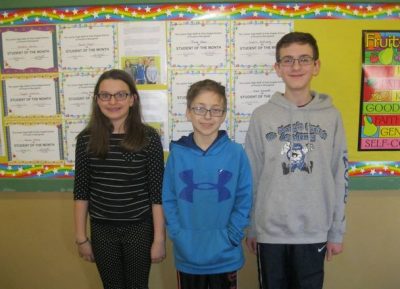 Student of the Month February 2017:
6th – Olivia Walker – One of our biggest Harry Potter fans, Olivia likes to read, create interesting art projects, and do gymnastics. She loves animals and is interested in a future as a vet or doggy day care provider. At school, teachers know they can count on her to produce quality work and to participate actively in class. Olivia has an independent spirit which shows in her fashion choices. She is a leader at school, participating in student council, serving at Mass and being part of the volleyball team.
7th – Caelen Spartz – Caelen stands out this year for his academic growth.  His organizational skills have improved greatly. Teachers like that he checks to make sure he understands assignments and expectations. He clearly wants to succeed and puts a lot of effort into his work. This level of initiative is appreciated. Caelen plays basketball and serves at Mass.  Outside of school, he is involved in martial arts and enjoys playing video games. He is considering a career in the medical field.
8th – Joseph Zimmer – Joseph is a student of many talents. He excels in all academic subjects partly because he is very focused and meticulous about his work. He is also a talented singer which he enjoys along with reading, juggling and science. In fact, he wants to grow up to be an engineer. Joseph is a kind, honest and sensitive student who is much appreciated by everyone at Holy Angels. He can be counted on to help out wherever needed and serves regularly at Mass.
Photo: l to r: Olivia, Caelen, Joseph