Students of the Month at Holy Angels School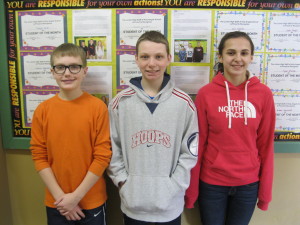 Holy Angels Students of the Month  January 2016:
6th – Konnor Sadownikow
Konnor is respected by his teachers for his intellectual curiosity and interest in learning. He participates in classroom activities with energy and enthusiasm, and always turns in high quality work. He is the kind of student who makes sure everything is completed carefully. (He is the only student at Holy Angels to successfully knock out every competitor at Dodgeball Elimination!)  Konnor has joined the ranks of servers at Mass and enjoys a variety of activities from sports to video games.
7th – Nate Waech
He is well-liked by adults and students. He brings a great sense of humor and kindness to school every day. He is a good sport and has great manners. Teachers like his great attitude and appreciate his consistency in academics. He participates in basketball, volleyball, forensics and serving at Mass.  Nate is part of a large and loving family and likes to spend his time playing sports.
8th – Isabel Sadownikow
Isabel is a responsible student who works hard. Teachers appreciate that she is the first student to volunteer to help out, and is very aware of the needs of the people around her. This quality makes her a good friend. She is busy with a number of activities including several sports teams, serving at Mass and patrolling (she is quite the mother hen to the younger kids).
Left to right: Konnor, Nate, Isabel