February 18, 2022 – Fond du Lac, WI – Day 7 of the sturgeon spearing season saw a slight increase in harvest. The total harvest from Lake Winnebago was 65 fish (9 juvenile females, 32 adult females and 24 males), an increase from yesterday's 47 fish.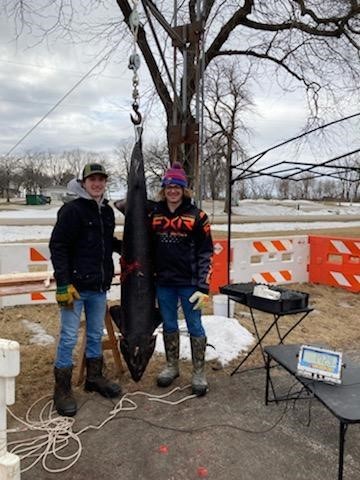 This increase is most likely because more spearers were out before the upcoming weekend. Our current harvest total on Lake Winnebago is now 738 fish.
View the full details in today's full harvest report.
Today a spearer harvested another fish over 170 pounds. Issac Bond, registered a 171.1 pound, 83.2 inch F2 female at the Calumet Harbor registration station. This was Issac's very first sturgeon.
Issac's harvest makes four fish over 150 pounds harvested from Lake Winnebago this year, with two of those fish weighing in at over 170 pounds.
Also noteworthy is that the Battle on Bago tournament began today, which brings anglers from all over to Lake Winnebago to ice fish. With this increase in traffic, be careful if you plan to be out on the ice spearing over the next few days.
As always, be sure to check with the local clubs for the most up-to-date ice conditions. Stay safe, everyone, and good luck.