January 29, 2021 – West Bend, WI – It was a North Shore Conference rematch between the Slinger Owls and the West Bend East Suns who played a tight and competitive game in their previous encounter December 8, where the Suns won 46-43. This game was definitely different, as the Suns shot to a 13-4 run in the early going and never relented.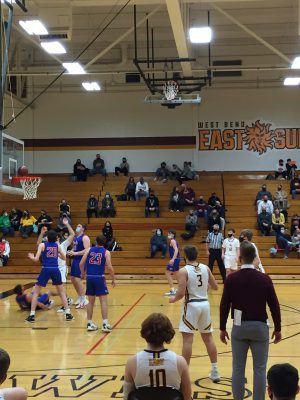 Defense was a big part of the Suns' game, as their constant denial of second chance shots and getting the better of the rebound battle overall negated what few troubles the Suns did have, namely missing a lot of wide-open shots in the early stages of the game.

The control of the tempo allowed West Bend to ride a 29-15 lead into halftime.
The Owls did their best to come in swinging in the second half, putting on some pressure to and take back the lead, but unfortunately it was just one of those games where one team's hard work and effort was not enough to overcome their opponents.

The Suns were simply dominant throughout the game, in every facet of play, and the scoreboard reflected that, never trailing in the game and always having a double-digit lead in the second half.
The Suns would go on to win 69-38, with their second-half performance of 40 points alone outscoring the Owls the entire game. 
The Suns really spread the scoring out with no truly dominating single player effort, but the team's top two scorers were seniors George Seaman and TJ Sumner with 13 and 12 points respectively. The Owls were led on the scoresheet by junior Matt Scaffer with 11 points. 
Suns Head Coach Charles Ruffing spoke very highly of his team's resilience after the win,  "We played really well against Grafton in our three-overtime loss (yesterday). Going into tonight I thought that was one of our more complete games, but to have a three-overtime loss and bounce back the way these guys did was awesome and says a lot about the character of this team."

Ruffing also praised his players, "(their) record isn't indicative of the kind of team we are. Tonight was a great showcase of what they are capable of and we are really building something for when we get to regionals." It was also confirmed by Ruffing that the Suns greatest strength is defensive play and energy, something that makes any team difficult to beat when functioning like a well-oiled machine.