January 29, 2021 – Oshkosh, WI – The Oshkosh Police Department is currently investigating a robbery that occurred at a business located in the 200 Block of Bowen St in the City of Oshkosh.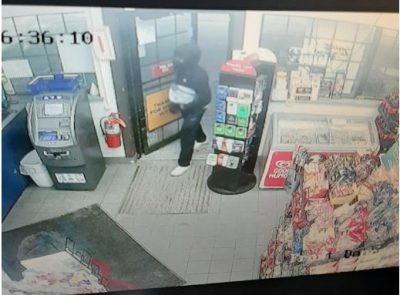 On January 29, 2021 at approximately 6:38 a.m, officers from the Oshkosh Police Department were advised that a black male entered into a business in the 200 Block of Bowen St, pointed a gun at an employee and demanded money. This male left with an undisclosed amount of money.
He then fled on foot and at one point he had been seen carrying a gray messenger bag. He was wearing a black sweatshirt, black pants, wearing a dark colored face mask and white shoes. Photos of this suspect are included with this release. No one was injured during this incident.
We are asking citizens (especially those who reside in the area of Ceape Avenue and Bowen Street) to check their surveillance cameras to see if they may have recorded this suspect in the area. It is believed that the suspect was on foot in the area at least 15 minutes prior to the robbery occurring.
If anyone has information regarding this incident, they are encouraged to contact the Oshkosh Police Department at 920-236-5700 or contact us through the Relay app. If you have information about this incident, but wish to remain anonymous, please contact the Winnebago County Crime Stoppers at (920) 231-8477; or through the P3 App.
Victims and witnesses of crimes have rights. For more information about these rights and services please visit our webpage at: http://www.oshkoshpd.com/VictimServices/.