The 2nd Annual Crossroads Rendezvous Historical Reenactment is May 17-19 at Peninsula Park in Saukville | By Mary Boyle,
May 11, 2019 – Saukville, WI – The Saukville Area Historical Society will once again host the 2nd Annual Crossroads Rendezvous Historical Reenactment at Peninsula Park May 17-19, where reenactors from across the Midwest, representing various people of the Fur Trade Era in Wisconsin from 1750-1840, will create a "Living History Experience" for all ages.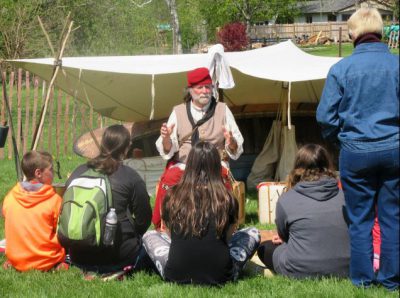 The popular event, which the SAHS ran from 1991 – 2006, returned in 2018 thanks to new organizers, and fellow historical reenactors, Mary Boyle and Sara Dahmen of Port Washington, who were wishing for an event to attend closer to home.
"We wanted an event in our own community, and we thought it would be easier to work with something that people were already familiar with, rather than reinvent the wheel," Boyle said.  "Several of the original organizers were still with the Historical Society, and they were so welcoming and instrumental in getting the event restarted."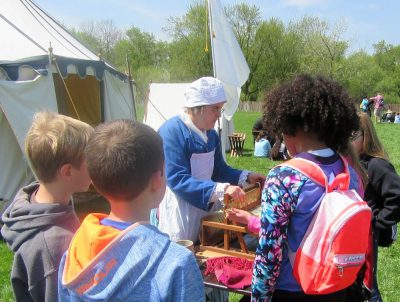 Last year, over 500 area students participated in the School Day and over 2,000 visitors attended throughout the weekend, making for a very successful inaugural event that raised over $2,600 for the Saukville Area Historical Society, as well as money for Boy Scout Troop 840, which served food for the event.  Organizers expect the camp to double in size this year, and hope that the visitor count will double, as well.
"With an outdoor event, you're always subject to the weather, and we had a very cold and rainy Saturday and Sunday morning last year," said Dahmen.  "Not only that, we had very little time to put the event together, and a tiny budget.  The budget didn't improve much for this year, but we had time on our side to reach more people.  With a little luck, the weather will be better for us, too."
Friday, May 17, is the School Day from 9 a.m. – 2 p.m.  While the public is allowed, the day is geared towards area students and homeschoolers.  Stations are scattered throughout the camp where children can try their hand at 18th Century Games, join the French Marines or British Militia, speak with a voyageur, look at actual 18th Century artifacts, and observe tradesmen such as blacksmiths, tinsmiths, silversmiths and woodworkers, as well as other activities.  New this year, and just for the School Day, is Wisconsin Folk Singer David HB Drake, who will perform a variation of his "Gather by the Waters" presentation at 11 a.m., noon, and 1 p.m., and Riveredge Nature Center, who will offer canoe paddling lessons (on land), as well as a look through a microscope at what resides in the Milwaukee River, which runs around the park.
The weekend is open to the public, and visitors are encouraged to park at U-Haul Moving & Storage, located at 835 E. Green Bay Road in Saukville, and take the shuttle to the event, as there is only limited disabled and motorcycle parking on site.  Saturday hours are 9 a.m. – 5 p.m., with Opening Colors at 10 a.m., Mini-Militia and Marine Drills for kids at 11 a.m., a Kid's Tactical at 2:30 p.m., 1776 Drilling with Lauzun's Legion at 4 p.m., and more.  Sunday hours are 10 a.m – 4 p.m., with Opening Colors at 11 a.m., an F&I Tactical at 1 p.m., a Cannon Demo at 2 p.m., and more.
The Crossroads Rendezvous is hosted by the Saukville Area Historical Society, a 501(c)(3) organization, and made possible through a Tourism Grant from the Saukville Chamber of Commerce, as well as the generous sponsorship of these local businesses:  Port Washington State Bank, Charter Steel, FPZ, Inc., Backwoods Tin & Copper, U-Haul Moving & Storage, Riversedge Restaurant, The Paperie, Mueller Heating & Cooling, and Saukville Feed Supply.
For more information, contact Mary Boyle, Co-Organizer, at (262) 288-1839 or [email protected], or go to the Crossroads Rendezvous website at www.CrossroadsRendezvous.org or on Facebook.com/CrossroadsRendezvous.