The Queen's Cartoonists coming to UW-Washington County on Feb. 16 at 7:30 p.m.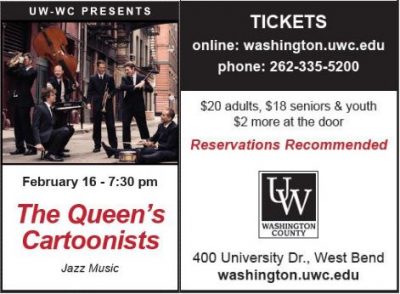 Washington Co., WI – The Queen's Cartoonists are a jazz band specializing in music from cartoons. The music runs the gamut from lightning fast swing arrangements to synchronize'd video projections, vocal numbers, and comedy.
Be prepared for music from classic Warner Brother's cartoons, early Disney films, cult cartoon classics, and modern animation.
Tying this diverse and challenging repertoire together are stories and anecdotes involving the cartoons and their composers. The band is on a musical mission of equal parts music preservation, education, and performance.
The Queen's Cartoonists tap into the rich tradition of cartoon music to bring a fun, cross-generational concert experience to any and all who will listen!
Reservations recommended. Click
HERE
for ticket information.