The Sounds of the Season is theme for Germantown Christmas Festival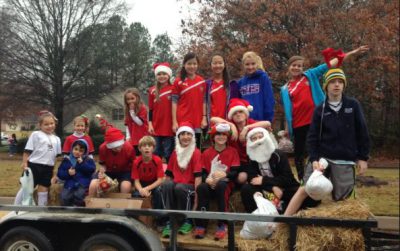 Oct. 20, 2018 – Germantown, WI – Germantown's Christmas Parade and 5K Candy Cane Run/Walk is Nov. 10. That's the day for the annual Germantown Christmas Festival.
"This year's theme is 'The Sounds of the Season' and we are really happy to have three musical groups providing holiday music along the parade route," said Lynn Grgich, executive director of the Germantown Chamber of Commerce.
The 5k Candy Cane Run/Walk will kick-off at 10 a.m. from the parking lot of the Germantown Police Department.
Holiday and patriotic music will fill the parade route with three musical groups set to perform. The Germantown Community Band will be featured as the Parade Marshall. "This is the 20th anniversary of the band and we are certainly pleased that the group has been named the Parade Marshall," says Jim Barnes, the director of the group.
Grgich expects 50 to 60 'units' in the parade and "at least 1,000 people marching." There are no fees to take part as an entry in the parade but pre-registration is required as a way of managing the order of the units. Parade lineup will be at 12:30 p.m. and the parade will get underway at 1:30 at Pilgrim Road and Sylvan Circle, immediately north of Mequon Road. The parade will travel north to Fond du Lac Avenue, onto Main Street to Squire Drive, then turn south onto Squire Drive ending in the Life Church parking lot.
At the close of the parade, events will shift to the Germantown Community Library. There will free, horse-drawn carriage rides, hot beverages and treats, Christmas caroling, KID IDs by the Germantown Police Department, a gift basket sale by Friends of the Library, and visits with Santa when he is finished with his work with the parade.
"The actual lighting of the official Village Christmas Tree will take place around 4:15," said Grgich.